Wild London

Tuesday, 30th October 2001, West Yorkshire






This Month Rocks History Workshop Links Home Page



IT'S SO LONG since we've taken the train to London that I decide to do a bit of bird, plant and animal spotting on the way down. I miss a lot as the landscape rushes past at a hundred miles an hour and more but the highlight has got to be the deer, Roe Deer as far as I can tell, which were standing in a small group in a field at the edge of woodland.


PLANTS
Bramble
Rosebay Willowherb
Crack Willow
Gorse
Sowthistle
Silver Birch
Reed, Phragmites
Rush, Juncus
Reedmace
False Oat
Dock
Burdock
Japanese Knotgrass
Oxford Ragwort
Bracken
Mugwort
Old Man's Beard
Mullein
Ivy
Spear Thistle

TREES

Ash
Sycamore
Poplar
Oak
Elder
Buddleia
Flowering Cherry
Lombardy Poplar
Pine
Horse Chestnut
Leylandii Cypress
Larch

BIRDS

Magpie
Wood Pigeon
Carrion Crow
Black Headed Gull
Shoveler
Coot
Tufted Duck
Canada Goose
Heron
Kestrel

INSECT

Dragonfly

MAMMAL

Roe Deer

FARM

Ayreshire
Fresian
Charolais
Large White Pig

Wildlife Garden
My list can't compare with the 600 species - including 50 birds and a staggering 300 moths - recorded on a small patch of ground on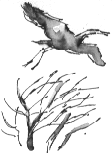 the corner of Cromwell Road and Queensgate in South Kensington. the Natural History Museum's Wildlife Garden features miniature versions of some of Britain's lowland habitats including fen, heath, woodland, hedge and meadow, centred around a pone which attracts dragonfly, damselfly, frog and toad (although we didn't see these on this dull autumn afternoon). We paused to take a drink of our bottled water at a wooden field gate,

overlooking a tree-fringed meadow; a rare possibility in the middle of town, even though the meadow is no larger than a tennis court.

On our walk back to Kings Cross via Kensington Gardens, Hyde Park and Regent's Park it's good to see two Cormorants resting on posts in the Serpentine and a Heron flying over Regent's Park lake.



Richard Bell,
wildlife illustrator
E-mail; 'richard@willowisland.co.uk'

Next page Previous page This day last year This month Nature Diary Home Page