Full Circle

Monday, 29th October 2001, West Yorkshire






This Month Rocks History Workshop Links Home Page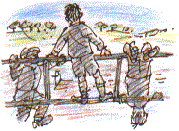 OUR AFTERNOON walk is a circle around what were my boyhood haunts. People who revisit childhood scenes often comment that the place seems somehow to have shrunk. It may be small in area but I can see how those basic elements of an ordinary landscape; rock and river, grass and gorse, hedge and tree, held infinite possibilities in my youthful imagination.



We used to refer to Storrs Hill, a prominent outcrop of sandstone (now with added graffiti), as the 'Ups and Downs'. A lesser outcrop was the 'Little Ups and Downs'. In my childhood it was mainly open with sandy clay slopes, colonised by tussocks of fine glossy grass, dotted with scrubby thorns.



Over the next 30 years the bigger hill kept its gorse, thanks to occasional fires, while it's smaller sibling became overgrown with sycamore and bramble. The 'Little Ups and Downs' has recently been bulldozed which

makes its origins more obvious. There's a small rockface of sandstone fronted by mounds of quarry spoil and the intervening hollow has been filled in as a rubbish dump. Fragments of stoneware jars and blue and white china suggest that the tip was in use in Victorian or Edwardian times.

The cleared area won't stay clear for long. Japanese Knotgrass is springing up already.



Richard Bell,
wildlife illustrator
E-mail; 'richard@willowisland.co.uk'

Next page Previous page This day in 1999 This month Nature Diary Home Page