The Ghost of a Flea
Thursday, 30th October 2003, page 1 of 4
Richard Bell's Wild West Yorkshire nature diary


Previous Page | This Month | Home Page | Next Page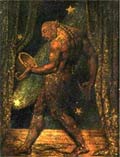 AT an exhibition of prints and drawings by William Blake (1757-1827) at the Graves Gallery, Sheffield I stand and sketch The Ghost of a Flea (c. 1819 -20). My brush pen drawing (above) makes the ghost look as if he might belong in a Marvel Comic but Blake's original (left) is in tempera highlighted with gold on mahogany. The crackled varnish adds an air of mystery.
The painter and astrologer John Varley recalled:
"I called on him one evening and found Blake more than usually excited. He told me he had seen a wonderful thing - the ghost of a flea! 'And did you make a drawing of him?' I inquired. 'No, indeed,' said he, 'I wish I had, but I shall, if he appears again!' He looked earnestly into the corner of the room, and said, 'there he is - reach me my things - I shall keep my eye on him. There he comes! his eager tongue whisking out of his mouth, a cup in his hand to hold blood and covered with a scaly skin of gold and green:' - as he described him so he drew him."

Fungus and the Flea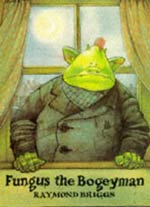 Although this is a Ghost you definitely wouldn't like to meet at dead of night there's a touch of humour about him too and he seems to be an ancestor of Raymond Briggs' Fungus the Bogeyman.
It's difficult to know how real Blake thought his visualisations were but I feel that the Ghost would work well as a flesh and blood character. Blake gives a convincing sense of muscular power but, like Fungus, this Ghost is apparently a creature of set habits and limited intelligence.

The curtains that frame both Fungus and the Flea hint at a presence that might lurk in the darker corners of your average home but also suggests a theatrical setting; I can imagine the Ghost strutting across the stage on tiptoe like a pantomime villain.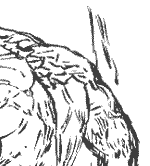 There's enough detail for a special effects department to create exactly the creature Blake imagines. I could picture him as a character in one of the Lord of the Rings movies. Those starry special effects in the background hint at intergalactic gothic: perhaps he's also a distant cousin of Alien.


Poet and Printer

Poet, painter and pioneer of DTP, Blake printed his books of poetry and prophecy at home using a method of relief printing he'd devised himself, drawing on his experience as an engraver. Once the plates were made Blake could print copies on demand, rather than run the whole edition off at once. He varied the colour of the printing ink and the character of the watercolour washes he added so that each copy has a unique identity. Mrs Blake bound the books, learnt to take impressions from the plates and occasionally hand-coloured them.
Using a scanner, computer and colour laser printer I have an easy time of it compared to Blake with my own publications which I write, illustrate and, for some of the slower selling titles, print on demand, here at home.
Blake is an illuminating example to me of the power and magic that it's possible to embody in a small home-made book; I've got a long, long way to go! His work has visionary power but, like this Ghost, there can sometimes be a sense of fun and over-the-top enjoyment of special effects about it too.

Related Link
The Ghost of a Flea at Tate Britain Online.


richard@willowisland.co.uk


Previous Page | This Month | This day last year | Home Page | Next Page