Train of Events
Tuesday, 28th October 2003
Richard Bell's Wild West Yorkshire nature diary


Previous Page | This Month | Home Page | Next Page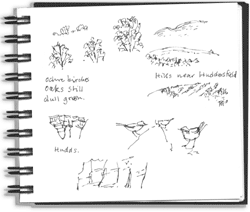 I always get a burst of enthusiasm as I start a new sketchbook so on the journey to Manchester I sketch whatever I see from the train window.
This new sketchbook has a tough chunky look. In keeping with my new-found determination to get back into more regular sketching this new book is black; the last one, a gift, had a pretty floral design on the cover. It's just on the landscape side of square and I chose a size that would just fit into my bumbag.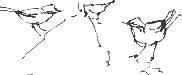 A couple of elegant pied wagtails mince and pirouette around a long puddle on the station platform while a single house sparrow gets on with a serious bout of drinking by this waterhole.



richard@willowisland.co.uk


Previous Page | This Month | This day last year | Home Page | Next Page