A Free Hand
Friday, 14th November 2003
Richard Bell's Wild West Yorkshire nature diary


Previous Page | This Month | Home Page | Next Page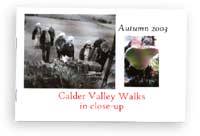 This simple little album of digital photographs, produced for my walks group, is the first booklet I've produced for almost a year. It's just 'fun' project, completed in a day, to help me get to know the design program FreeHand.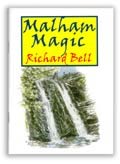 I felt it was time to have a break from booklets when I got my Malham Magic into print last December. Malham was number 7 of a series of pocket-sized guide-books that I'd produced over a period of several years.

I decided to have a break from books of any kind and to take a sabbatical year to spend as much time as I could drawing from nature (there isn't much scope for that in the tight format of the little guide-books).

It's turned out pretty well, although I didn't get as much drawing done as I would have liked, but at least I did more than in previous years. Now that I'm feeling refreshed I'm looking forward to getting back to a few publications.
Village Walks

The idea of the little guide-books was that every village should have a booklet that briefly gave details of the buildings and other features of interest that you'd see in an afternoon there. Not a full history of the village including all those primary sources like hearth tax returns, wills and deeds, indentures and enclosure awards - essential as those documents are to an understanding of the development of a village - but a true pocket guide that you can read as you stroll around.



One which supplies some of the answers to that basic question 'what's that over there?' My format was to include a line drawing of a building and to give a couple of paragraphs with the basic information about when it was built, who lived there and maybe a funny or odd story connected with it. Something

that would make people think 'well, I never knew that'. The sort of thing that I'd mention if I was strolling around with a visitor.

In 1997 I'd researched my book Village Walks in West Yorkshire (Countryside Books, 1998) for which I had to write brief descriptions of 20 villages in the county. I always called in the newsagents or post office hoping that I could pick up a brief guide to the village.
In Wordsworth's Footsteps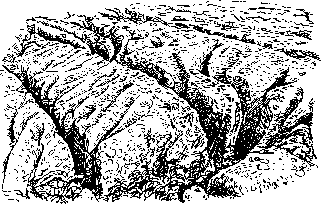 But the Malham booklet proved the limitations of my 'village in a nutshell' approach. There was so much I wanted to say about Malham and Malhamdale. It's a place that means so much to me. So much beyond those basic dates, facts and funny stories.
Barbara and I made a couple of day visits to the village and walked the 7 mile circuit of the Cove, Tarn and Goredale Scar, taking dozens of photographs along the way. In retrospect I wish I'd taken my tent or booked into a bed and breakfast or the Youth Hostel and spent a week drawing there. As it was I produced almost all my line drawings - like this study of the limestone pavement above the Cove - from the photographs I'd taken on our walks.

Not that there was much room for artistic expression in the drawings which had to fit into the pocket-sized format. It was a balancing act to fit the text and drawings into the limited space available.

The countryside around Malham has inspired poets, painters, writers and film-makers and I spent an enormous amount of time checking up on facts, finding out who visited, when they visited and how they were inspired.

For instance Wordsworth, who visited Goredale Scar, accompanied as usual by his sister Dorothy, described a massive tufa-covered rock in the Scar as:

'The local Deity, with oozy hair
And mineral crown, beside his jagged urn'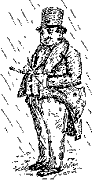 It occurred to me that there's me stuck at home researching all this on the internet and in books; drawing from photographs, in short getting my experience of Malham at second hand, while the people I'm writing about, who include Turner(right), Tolkien, Gary Kurtz (producer of Star Wars) and Charles Kingsley (who was inspired to write The Water Babies after his visit) had all the fun of actually exploring the place and letting their imaginations get to work.

Why shouldn't I be the one out there with my notebook, writing that a rock reminds me of some antique god? I've got as much right as Wordsworth to visit and think my own thoughts.
FreeHand

So that's it: I'm learning Macromedia FreeHand, a vector drawing program that I'm using not for drawing as such but for the possibilities it offers for designing pages for my booklets. I've been using Microsoft Publisher so far but I'm hoping that FreeHand will make me more compatible with Neil, my commercial printer, who uses FreeHand on his Apple Mac (I'm on a PC).

I've got so many ideas for booklets, some of which have started out here in my online diary. I feel that designing them on my desktop - even printing them here at home if it's a booklet of limited interest - gives me a great deal of creative freedom. I hope it will soon be me who is out there walking, exploring, thinking, feeling, drawing and writing: being inspired by the landscape to produce my own work.

That this time it will be me having the adventures - and writing them up in my own books - instead of sitting here at my desk writing up other people's adventures.


richard@willowisland.co.uk


Previous Page | This Month | This day in 2000 | Home Page | Next Page