Artbag
Wednesday, 10th December 2003
Richard Bell's Wild West Yorkshire nature diary


Previous Page | This Month | Home Page | Next Page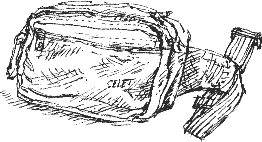 I've recently joined an artists' journals group and there's been a lot of discussion about bags so I thought I'd do a page on my artbag - a Gelert Bumbag or waist bag - and its contents.
I've got a spiral bound cartridge paper Daler-Rowney sketchbook in landscape format (148 x130mm, about 6x5 inches) which just fits into the main section of the bag. I keep my basic set of drawing materials (see below) in the front pocket so it's all there when I grab the bag. There are another two slim pockets front and back.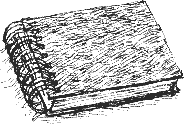 Last month, when I set off on a long walk, I was carrying a rucksack so I wore the bumbag across my stomach, marsupial fashion. When I stopped to do a quick

sketch I could get at everything (there was room for a small bottle of drinking water in there too) without heaving my rucksack off. I found it useful to rest my sketchbook on the bag as I drew. I could simply stop and stand, wherever I was - in the middle of a field for instance - and get on with my sketch.
By the way, I keep a keyring compass, which also has a thermometer included in it, attached to one of the zip fastners. It's not often that I need it but, when I do, there it is.
Fashion Hints


One word of warning. Bags of this design were used in medieval times by shepherds, pilgrims, outlaws and so on, so I was convinced that I'd look sporty and dashing; a latter-day Robin Hood in the mould of Errol Flynn or Kevin Costner.
No! - I look like Brueghel peasant!
However, as fashion doesn't matter too much as you trek through the woods and fields, I'm sticking with this arrangement but when Barbara and I visit the Café Casbah I tend to take it off and carry it under my arm.
So then it probably looks like an handbag! It shows how much I love my art.
Pens


Rotring art pen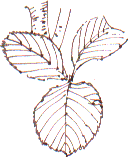 As I've often mentioned in this diary, my favourite drawing pen is the Rotring Art Pen.

I've got two fitted with black ink cartridges, which are easy to change on location. There's room for a spare cartridge in the barrel of the pen so, if you run dry mid-drawing, you can refill the pen in seconds. I've got a third art pen which has a fountain pen filler in it instead of cartridges. I've filled that with sepia Manuscript Calligraphy Writing Ink. Sepia ink cartridges are also available.

These pens are not recommended for use with waterproof ink but using water soluable ink means that, when the drawing is dry, you can dab it with a brush dipped in water to produce a tonal wash.

Pentel Brush Pen

I use a brush pen when I want to free my drawing up a bit. It doesn't give quite the freedom or unpredictability of drawing with a brush or bamboo pen loaded with Indian ink but it's more practical on location as you don't have the danger of spillages or the need to clean out your brush.
You can buy ink cartridge refills for it. The brush tip should last out several refills.
Pilot Drawing Pen
This disposable pen has a 0.8 tip and is filled pigment ink which is resistant to light and water so, unlike the art pen, above, you can add watercolour to a drawing without the ink running into the wash.

When I'm in the office suppliers I occasionally buy any pen of this sort that I like the look of and I'm also using a Staedtler pigment liner at the moment. But I prefer my art pen: I'm so used to it that it's become like an extension of my hand and eye. Somehow I find pigment pens can seem a bit slippy; I prefer the way the art pen moves across the paper. I feel freer but more in control, if you know what I mean: as if the pen is dancing on the paper rather than careering around like a supermarket trolley with a wobbly wheel.
I have shaky hands and this might account for the way I like to draw . . . and my habit of drawing and drawing since the age of 6 or 7 might account in part for my shaky hands!
Watercolours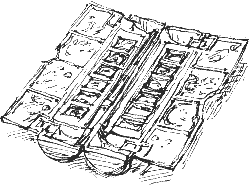 I like gadgets so I couldn't resist this Daler-Rowney Artists Watercolour box that folds up into a tube. I've varied the colours in it a little.

There isn't much space for a brush inside so I've cut down and sanded an old brush to fit.

Pentel Waterbrush


I first read about waterbrushes in an article by Martha McEvoy in Trumpetvine Travels. The barrel unscrews for filling and you control the flow of water into the brush by squeezing the barrel. To clean it squeeze more water through and dab the brush on a tissue. On my walk I was glad to save a little weight and space by packing this instead of the plastic screwtop bottle of water that I've taken with me for the last 25 years.
I should add that I also always carry a pencil - an HB, B, even a 4B - but only occasionally use it, and then it's almost always in a drawing that will have watercolour added to it. Pencil smudges too easily for the rubbing a drawing gets when my sketchbook is in the bag.

Related Links
Art and Journals
artistsjournals2 discussion group for beginning and experienced artists and journal-keepers.
Outdoor Equipment
Galert outdoor clothing and equipment
Recta compasses and alitmeters
Artists Materials and Pens


Previous Page | This Month | This day in 1999 | Home Page| Next Page