Sleeping Dragon
Tuesday, 8th December 2003
Richard Bell's Wild West Yorkshire nature diary


Previous Page | This Month | Home Page | Next Page



A fiery sun rises over the bare trees of the wood.


By the pond, grass blades glisten like spiky teeth.

Frost-dusted sage leaves hang like scaly armour.


-- anonymous, 16th century. This poem appears in
The Masque of the Twelve Months,
George Chapman (1559?-1634)
As the sun rises, the valley seems to be awakening, breathing misty vapour - as if an earth dragon is stirring in its wintry lair.
Inbox Inspirations
It was some recent e-mails that inspired me to go down the garden with my digital camera:
Snowfall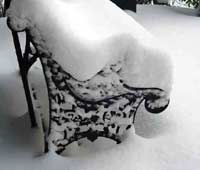 From Mattituck, Long Island, Hazel Kahn sends me this photograph to let me know what it's like in her back garden today. 'The blizzard has passed,' she says, 'and things have returned to normal with surprising speed.'


Rosellas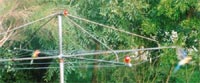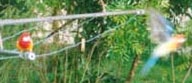 Reminding us that it isn't winter everywhere, Barbara Regent had these rosella parakeets the washing line the other day in her garden in New South Wales.

Texan Sunrise
Rheba Kramer Mitchell's backyard has a panorama on a Texan scale: 'I have had the early morning wake-ups this week; got up around 5 AM this morning and watched this unfold as I checked my email.'

Red Dragon
It's the fantasy art of Liza S., who left a message in my guestbook yesterday, who gets me thinking about sleeping dragons. This is her Dragon in a Bottle.

Her fantasy menegarie k also includes unicorns and this howling grey wolf.

Related Links
Leafages - Hazel Kahan uses pressed leaves and vines in her mixed media art.
Landscape and Nature Studies - illustration and interpretation from Barbara Regent in New South Wales.
The Lair Log - Rheba Kramer Mitchell's artwork - including digital paintings and fractals - and encounters with the wildlife on a Texas Wildscape ranch.


richard@willowisland.co.uk