A Far Pavilion
Sunday, 14th December 2003
Richard Bell's Wild West Yorkshire nature diary


Previous Page | This Month | Home Page | Next Page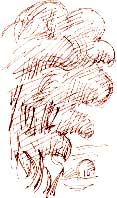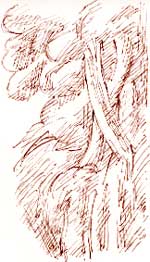 These lushly verdant trees - resembling giant sticks of broccoli - form the background to a portrait of my great grandfather George Swift. They remind me of the painted scenic backdrops you see in studio portrait photographs of the Victorian era but this particular portrait is an oil on canvas, about 3ft x 4ft, from 1843.
George was then aged just 3 and he is depicted wearing the black velvet dress that toddlers of that time were dressed in. He holds a hoop and stick.
The silk sock on his right leg has slipped and, as a toddler, my Mum had her Mum stand her in front of the portrait and have her say: 'Grandad! Pull your sock up!'

It's difficult to photograph using my rudimentary digital camera as the canvas is so shiny. The face bears an uncanny resemblance to my sister's son Richard at that age. We did think about dressing him in an identical outfit and photographing him, age 3, in front of the portrait. Luckily Richard escaped that!
Young George certainly didn't live in the landscape park depicted in the painting. There are tubs of flowers, lawns and a gravel paths amongst the trees. Like many in the smoky steel town of Sheffield at that time he suffered from bronchitis. My Mum suspects that he might have worked in the cutlery trade for a while, like his relatives, but the fact that he and his wife took a shop, probably a general store, at 198 Hanover Street, suggests that he had to opt for an occupation that kept him away from the dust you'd get in the grinding process.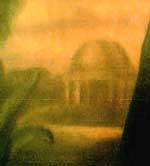 His first wife died soon after the birth of their second child, and the child survived his mother by only a few months.
But thanks to the unknown Victorian painter we can picture him in a paradise garden, complete with a pavilion just a short stroll down that path in the background.
Grey Squirrel Drey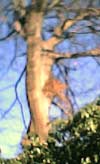 No pavilions in my Mum's garden but her variegated beech appears to have a grey squirrel's drey in it. A collection of leafy branches has been bundled together halfway up the trunk, using the stump of a sawn-off branch as a support.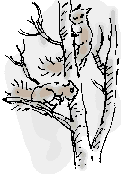 We didn't see a squirrel using it, but there are plenty around.
'At least they're not building in the roof-space', said my Mum.



Previous Page | This Month | This day in 2001 | Home Page | Next Page