Self Portrait
Saturday, 20th December 2003, page 2 of 2
Richard Bell's Wild West Yorkshire nature diary


Previous Page | This Month | Home Page | Next Page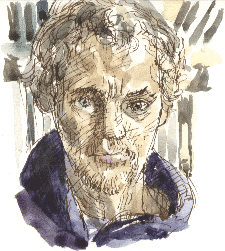 I want to draw, but with rain lashing on the studio window I can't see my usual view of the meadow and I don't want to pick up a still life object such as a shell or pebble.
As far as I remember this is the first self portrait I've drawn for seven years. At first I'm not at all keen on my subject: in the sidelight from the studio window those frown furrows between my eyes are so conspicuous. I expect they might look worse because I'm concentrating on drawing. And I look so heavy around the eyes.
But when I start adding colour I find that I'm enjoying the drawing. Those details like furrows and bags under the eyes aren't all that important. A face isn't a collection of such details, cobbled together: the spaces between, such as the forehead and cheeks, and the underlying structure are what brings it together.
I get interested in the effect of the light from the studio window. In fact if I don't finish soon the light will be gone altogether. This is a good thing; it makes me work more quickly.
My vanity, my concerns about how old I'm looking, fade away as I draw. In their place are visual problems of light, colour and structure. I'm able to treat myself as I would one of the 1001 objects that I habitually draw; to see myself as just a part of the world - a world of light and colour - and that's reassuring to me; to think that when all's said and done I am a part of that vibrant world.
My favourite bits of this drawing are the highlight on the forehead and the graphic quality of the scratchy lines of my new sepia pen as seen through an irregular watercolour wash.
Whether this is a good likeness is another matter and probably not all that important. You have to remember that I'm drawing in a mirror: like most people I've got an asymmetrical face so the way I see my face is the mirrored reverse of what you'd see.
Two Advantages of Drawing a Self Portrait
Your model is always available.


Previous Page | This Month | This day in 1999 | Home Page | Next Page