'Ferns' in the Attic

Saturday, 1st March 2003, West Yorkshire




Rocks | History | Workshop | Links | Home Page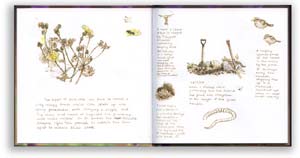 Sorting through the boxes and bags stowed away under the eaves in the far corners of the attic stirs up memories.
When you've been writing and drawing as long as I have you accumulate an awful lot of sketchbooks, diaries and notebooks. They're full of memories and ideas that I might, who knows, get around to working on some day. The problem is that they are all over the place; in boxes in the various roof spaces, in drawers in the plan chest and here and there on the bookshelves.
We've just had the attic boarded out as an airy, reasonably dust-free storage room with yards of shelves so that, at last, I should be able to arrange my sketchbooks so that I can refer to them when I want to.


British Ferns
It's good to get rid of clutter - for instance those bundles of accounts going back to the 1980s - but as we sort through boxes and bags we also turn up one or two gems that I'd forgotten I had.
This 1924 British Ferns, Club Mosses and Horsetails by Daniel Ferguson, M.A., is from a delightful series called Peeps at Nature. When I get the time I shall enjoy reading it. It's natural history from what, looking back at it in a suitably nostalgic mood, can appear to have been a more innocent age. In fact it's a reprint of a book that was first published in 1912, so it almost goes back to those last lingering Edwardian summers.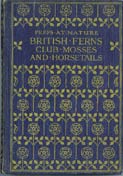 There's a touch of Victorian botanical illustration about the colour plates, a bit of Art Nouveau in the design of the title page and the cover, while it isn't exactly William Morris, has got an arts and craft movement look to it.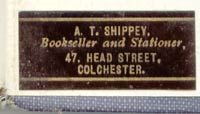 A book is a special object in a way that an online nature diary, or a CD rom reference work isn't. A book has an identity of its own. It seems to put you in touch with its previous readers. On the back endpapers there is a label from what I guess was the bookshop that originally sold it, in the 1920s; A.T.Shippey of Head Street, Colchester.
Mr Lucas
In the front there's an embossed name stamp; 'Edwin Lucas'. Mr Lucas was one of our French and Latin teachers at Ossett Grammar School, back in the 1960s. His catchphrase; 'Oui? Bon - Good.' His nickname 'Squeak' from his sibilant speech.
He'd been teaching at the school since wartime, the Second World War, that is. During the invasion scare he'd been pushing his moped up Storrs Hill, wearing his customary headgear, a beret, when two awed boys asked him;
'Mister, are you a German paratrooper?'
He always wondered what the reaction would have been if he'd said 'Jarvol!'
What I didn't know during my school days was that he had an interest in botany. He recorded wild flower distribution for the first British Plant Atlas.
The last time I heard from him, it must be almost ten years ago now I suppose, he phoned to tell me about an opencast coal mining proposal for a great swathe of the countryside near Ossett. People have long thought, wrongly, that, because I'm interested in natural history, planners are going to pay some attention to what I say; as I've said before in this diary, if what I say goes against the developers the planning authorities are quite happy to dismiss my evidence as 'unbelievable!'
The opencast threat faded away, for how long we will have to wait and see.
Mr Lucas too faded away and I was told that his collection of natural history books would be auctioned in the Working Men's Club in Horbury. I went along and decided that I'd try bidding for a box of books on ferns. It was the first time I'd bid in a real auction and I was soon beyond my budget and the books went to another bidder.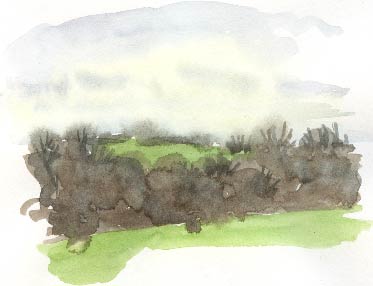 A few weeks later I heard from a retired local butcher who had bought a box of botanical books at the auction. He'd taken out the ones he and his family were particularly interested in and he asked if would I like the others.
Amongst them was the book on ferns.

To our surprise we get the attic finished leaving me with just enough time to paint the view from the window before the light starts to fade and I take a welcome early bath.


Next page | Previous page | This day last year | Nature Diary | Home Page