Shower Cloud

Tuesday, 29th April 2003, West Yorkshire




Rocks | History | Workshop | Links | Home Page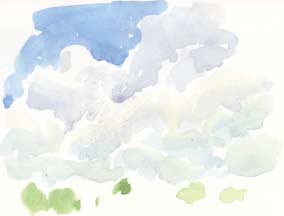 After a couple of visits to the recent A breath of fresh air Constable show in Sheffield I'm keen clouds and trees so, while we sit in J's café at Sainsbury's supermarket in Wakefield, waiting for our meal, I take out my little box of watercolours to paint the shower cloud looming over the city.
As there's so little time I don't bother with any pencil drawing but that's hardly necessary as the clouds are have crisp outlines that I can follow with my brush. First I paint the corner of sky in French ultramarine then I move downward and rightward (always the easiest way with watercolour if you're right-handed) mid-grey of the clouds with what's left of the ultramarine plus a bit more water and a dash of alizarin crimson. Before that has dried I run a yellowy wash for the parts of the cloud that are picking up a warm tint from reflected sunlight.
'Designer Naturalist'
I grew a beard as a young student at art college and I've never shaved it off since so I've never possessed a razor however today I discovered that there is such a thing as a beard trimmer. Not exactly the most high-tech of gadgets but there were enough features highlighted on the box of each model to make me ponder which of them was really necessary and which was spurious.
One feature I particularly liked was:
'Activation
On-off switch for quick activation'
Yes, really! I like the idea of the marketing people at Philips having a brainstorming session and the account director enthusing:
'Lets kick this one around, I want your ideas no matter how wild or wacky: what are the features that are going to sell this beard trimmer?'
And some junior coming up with; 'Err, well it's got an on-off switch.'
'Hey, I like it!' says the account director writing 'ACTIVATION' in big red marker pen capitals on the flip chart.
Anyway, it's easy to use and my shaggy Walking with Cavemen beard is now a thing of the past; it's now neatly trimmed in a style that I'd call 'designer naturalist'.
The marketing department at Philips might like to use that.



richard@willowisland.co.uk

Next page | Previous page | This day in 2000 | This month | Nature Diary | Home Page