Ox-eye Daisies

Monday, 16th June 2003, West Yorkshire




Rocks | History | Workshop | Links | Home Page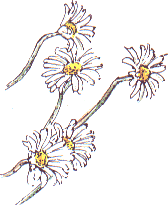 The ox-eye daisies in the border by the hedge are prolific. Normally it's the pink geranium that bushes out and threatens to take over the bed: this year you can hardly see it behind the mass of daisies.
We'll have to thin them out after they've flowered. I might try transplanting some of them to the meadow area where docks, nettle and cow parsley are the dominant plants.
When we first experimented with the meadow area I sowed a wildflower mix by the apple trees (since

felled) at the end of the garden. Despite the variety of seeds in the mixture it was

the ox-eye daisies, also known as dog daisies or moon daisies, that dominated.
Over a few years they faded away, to be replaced by the cow parsley so that my wildflower meadow came to closely resemble the meadow on the other side of the hedge.
The Last Uncorked Tomato
A couple of weeks ago I potted up the tomato plants in the greenhouse. Some are due to go out on the patio so I planted them in smaller pots and used shorter canes. I realised that these canes were dangerously on eye level if I bent down so I decided that I better stick a cork on the end of each cane. It's a measure of how much wine we get through that today only one cane remains uncovered.



richard@willowisland.co.uk

Next page | Previous page | This day in 1999 | This month | Nature Diary | Home Page