The Bean and I

Monday, 23rd June 2003, page 1 of 2, West Yorkshire




Rocks | History | Workshop | Links | Home Page



I've decided on wigwams this year for the runner beans: I find wigwams easier to construct and more stable than a row, which I feel has a tendency to waver from side to side. Probably because I feel the form is more suited to the job I find wigwams a bit more aesthetically pleasing too. There again it might be the idea of going back to nature and living in a tepee that appeals to me.

The bean plants that I've grown in pots in the greenhouse look fine once I've planted them, watered them thoroughly and tied them to the canes but I remember a few years ago doing all this and almost the next day finding that a rabbit had found its way into the garden and had nibbled off most of the tender young plants. I put some chicken wire around them, but that made it difficult to weed amongst them.

Whether it was a rabbit or a slug that snipped the tops off some of the dwarf French beans in the next bed I'm still not sure (slugs is my best guess) but I'm delighted to see that today those pathetic snipped-off stalks are sprouting leaves again: I hadn't appreciated that the stems could develop new growth points after such extensive damage.

I'm also concerned that, as my runner beans are used to the shelter and humidity of the greenhouse, planting them out on a warm, windy day like this might give them too much stress and they might shrivel before they get established.
To give them some protection against both rabbit and wind I put the cold frame (minus the lid of course) around them. The cold frame is as long as the raised bed is wide, 4 ft, so it fits neatly in place; it's just a bit of a performance getting it over the wigwams.













Thundering Bloodblister
Finally, I don't expect I'd have any of these problems if you really could buy this Jack and the Beanstalk variety of runner bean. I printed this pack out for my brother Bill's birthday a few years ago when he was taking a big part (they don't get much bigger) in the local pantomime, playing Giant Blunderbore. You'd like my brother: he's bigger than me!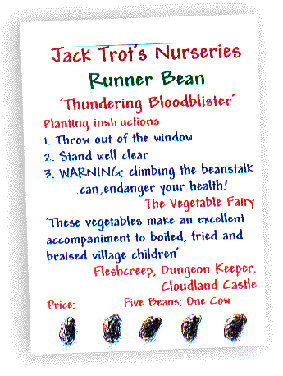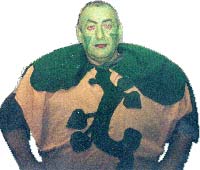 By the way, the variety name was Bill's idea: he was planting out runner beans one day, years ago, and that's what he wrote on the label. He thought it would make a change from 'Polestar' or 'Kelvedon Wonder'.
In these days of GM crops perhaps at last he can develop his idea.
















richard@willowisland.co.uk

Next page | Previous page | This day last year | This month | Nature Diary | Home Page