Ocean of Air

Monday, 14th July 2003, West Yorkshire




Rocks | History | Workshop | Links | Home Page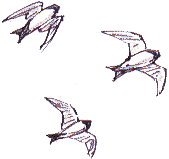 I found it too hot to sit out at lunch time but it's a lovely evening to sit out with our meal. In the clear blue ocean of air above us house martins are hawking for insects, like barracuda picking off stray anchovies.
Over the field a flock of 20 to 30 racing pigeons is wheeling around in loose formation. They remind me of military aircraft on manoeuvres. The sudden roar of wings as they make a low pass over the house can be almost as much a shock as a low-flying jet suddenly making a fly-past.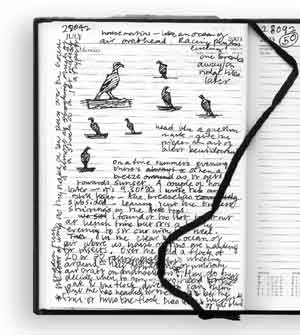 How do they decide when to turn? - two head off towards the boundary oak and the flock diverts to join them but meantime one of them has headed for the wood. By the time it turns to rejoin the flock it has been left hundreds of yards behind.
A Breeze from out the Blue
On a fine summer's evening there's often a breeze as it gets towards sunset (in fact there's been a bit of a breeze all day today). A couple of hours later - it's 9.30 p.m. as I write this and still light - the breeze has subsided, leaving just the tiniest stirrings in the treetops.
Pigeon on the Roof







Perhaps this is the pigeon that broke away, standing on the ridge tiles of the roof of the house across the road. In silhouette its head is like a question mark, giving the pigeon an air of alert bewilderment.



richard@willowisland.co.uk

Next page | Previous page | This day in 2000 | This month | Nature Diary | Home Page