Thistledown & Willowherb
Saturday, 16th August 2003
Richard Bell's Wild West Yorkshire nature diary


Previous Page | This Month | Home Page | Next Page










Wood pigeons feed on the spilt grain in the stubble amongst the great rolls of straw.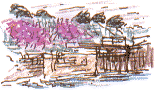 A scrubby patch between the canal and the railway is a mass of thistledown with swatches of magenta rosebay willowherb.



We see half a dozen speckled woods (right) on a stretch of south-facing canal towpath backed by a walled embankment and overhanging hawthorns.
At the embankment by the canal basin a wall brown (left) suns itself, appropriately, on the stone wall.



richard@willowisland.co.uk


Previous Page | This Month | This day last year | Home Page | Next Page