Courgette, Zucchini, Marrow

Tuesday, 5th August 2003, West Yorkshire




Rocks | History | Workshop | Links | Home Page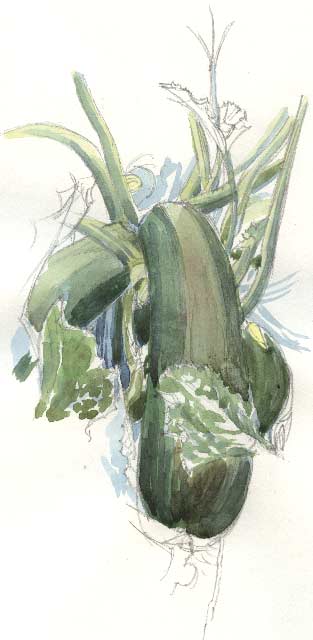 After all the pen and ink drawings I've done this year I feel I should do more in colour. What could be easier than this courgette (zucchini) that has grown to the size of a marrow?
Well, surprisingly, it's not that easy: yes, it's basically dark green but there's a stippling of a lighter, yellowy green that affects the general look of it. When I apply the dark green wash I realise that, to my eyes at any rate, there's a hint of crimson somewhere in it. Perhaps the late afternoon light is affecting it. I notice a small patch of lighter green (bottom left) which is caused by reflected light from a nearby leaf.
I realise that I'm not going to achieve the colour balance I can see unless I suggest some of the surrounding colours so I make a start on the leaves. One of the last things I do before I have to break off is add the yellow of the two flower buds. That seems to bring the sketch to life.
Barbara's back home and is asking if I can cut a marrow for her: she and her Mum are making marrow and ginger jam tomorrow and the marrow, diced into half inch squares, has to stand overnight with a pound of sugar sprinkled over it. I take a look under the leaves at the other side of the bed and find a couple for her and leave these just in case I have time to do more on the sketch tomorrow.
Barbara gets almost all of the four pounds she needs out of one of the marrows. They're solid things. To get that chunkiness I started my sketch with a simple tonal wash over my pencil sketch using phthalo blue (known as Winsor blue in the Winsor and Newton range of watercolours). You can see bits of the wash that I didn't get around to painting over. Phthalo blue is biased towards yellow. It's semi-transparent, mixes well and is reasonably permanent. When the blue wash had dried I added a wash of payne's grey, another transparent colour, to the darkest parts of the courgette.
The blue and grey tones help suggest the shape of the courgette when I start to painting the dark green wash.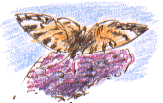 A painted lady is visits the buddleia. There have been a lot of them around this year. Where I'm sitting there's a delicious smell of fresh celery from the veg bed next to me.
Marrowbones
A Californian vegetarian friend is horrified when I say that next time she's over here she must sample Barbara's marrow soup.
'What the heck is a 'marrow'...!' she asks, 'When you said that Barbara would fix me some marrow soup, I gulped down a vision of bone marrow and blood churning around in bubbling broth. I eat very few animal products, so the image was quite interesting. So, is it...can it be...a VEGETABLE of some kind? LOL, I'll have seconds, then, please. Or have I insulted the chef and it is BONE SOUP afterall? Do tell!'
Of course this is the vegetable marrow; marrow means (according to the Shorter Oxford English Dictionary):
The pith of a plant; the pulp of a fruit.
As well as
In full vegetable marrow. The long cylindrical green, white, or striped fruit of a kind of gourd, Cucurbita pepo, eaten as a vegetable; the plant producing this, a trailing annual with deep yellow flowers.
But I like this meaning too:
Phrases: to the marrow right through, to the centre of one's being.
There's a folksong Marrowbones, performed with bawdy relish and the sort of tune you want to get up and dance a jig to, by Steeleye Span. A wife is wanting to cheat on her husband:
She went to the doctor
To see if she could find
Anything in the whole world
To make her old man blind.

'Oh, take you sixteen marrowbones
And make him eat them all
And when he's finished he'll be so blind
He won't see you at all.'
Don't try this at home! Since the doctor tips off the old man it's the wife who ends up in the river when she attempts to push her 'blind' husband in. Needless to say there's a moral to the tale:
Oh, it may take sixteen marrowbones
To make your old man blind
But if you want to murder him
You must creep up close behind.


richard@willowisland.co.uk

Next page | Previous page | This day two years ago | This month | Nature Diary | Home Page