Sea Kale Beet
Wednesday, 17th September 2003
Richard Bell's Wild West Yorkshire nature diary


Previous Page | This Month | Home Page | Next Page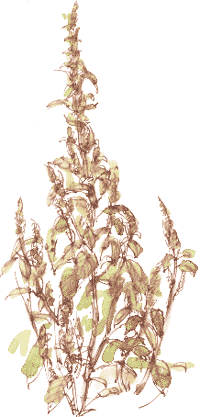 This 6 foot tall plant of Swiss Chard, beta vulgaris, also known as 'Sea Kale Beet', has grown up on the furthest veg bed, the one that never got fully dealt with this year.

It has clusters of greenish flowers that look like little bottle-brushes.

Though the flowerheads are softly bristly to the touch the simple leaves and the crimson-washed stems are smooth and polygonal in cross-section, like a pencil. There are no ribs on the stem.

Swiss Chard is a cultivated variety of Sea Beet, Beta vulgaris, a coastal species that, in its other cultivated varieties, is grown as spinach beet and beetroot.

Swiss Chard, Beta vulgaris cycla


richard@willowisland.co.uk


Previous Page | This Month | This day in 2001 | Home Page | Next Page