Changing the Scenery
Thursday, 18th September 2003
Richard Bell's Wild West Yorkshire nature diary


Previous Page | This Month | Home Page | Next Page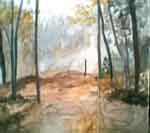 I'm clearing out old timber and chipboard in the garage - pieces I've recycled but never got around to using - when I come across this; a folding screen of (recycled) harboard panels, 6ft x 7ft with a woodland scene quickly painted on it for a display our naturalists' society mounted at the Wakefield Flower Show in the 1980s. A shop mannequin dressed in anorak and bobble hat, carrying a bat detector and wearing binoculars represented the modern naturalist while a tweedy Victorian naturalist in his stuffed-bird filled study opposite represented her counterpart of a century earlier.
A Natural History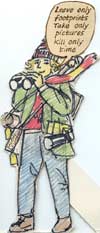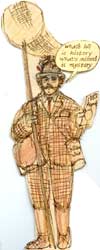 The slogan of the Victorian field naturalist:
What's hit is history, what's missed is mystery
I'm afraid that was literally true; we have a few of teh early annual reports from our Society, Wakefield Naturalists', and there are reports of otters being 'obtained' (shot presumably) and brought to the meetings.
Our up-to-date high tec naturalist has a different approach:
Leave only footprints
Take only pictures
Kill only time
The Roof at the Redbrick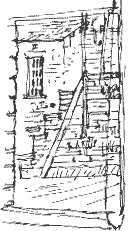 We load the woodland scene and the timber the back of the car, take it to the refuse disposal point at Shaw Cross and then head to the Redbrick Mill, Dewsbury, for lunch a bruschetta (that's Italian fried bread, by the way), with olives and feta, at the Café Casbah.

Kestrels have nested at the mill, just above the café, for a number of years, but that's a pigeon in my sketch. The older building (left) is of local sandstone with a slate (presumably Welsh slate) roof. That's an indication that the building (or at least the repair of its roof) dates from a time when the developing railway network allowed for the transport of this lighter alternative to local flagstones.
The Leeds to Manchester line, constructed in the mid-19th century, runs on an embankment just behind this mill.



richard@willowisland.co.uk


Previous Page | This Month | This day in 2001 | Home Page | Next Page