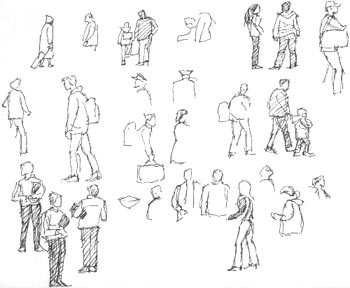 *Platform Souls is Nicholas Whittaker'sperfectly chosen title for his account of 'The Train Spotter as Twentieth-century Hero' (see link below).
There don't appear to be any train spotters around in York station this afternoon but there is at least one anorak-clad enthusiast scribbling down what he sees in his little book: me. It's an opportunity to try out that new pen.
I like the way a bag becomes a part of the person's character: shoulder bags, rucksacks, hold-alls, cases on wheels; in a few minutes sketching they've all gone by on platform 1.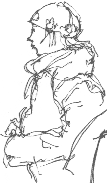 It's less like watching a passing fashion show, more like watching a theatre workshop where actors are handed a bag at random and told to improvise a character using the bag as the starting point.
Wherever we go, however free we think we are, we carry a lot of baggage with us. Some more than others.
This young, petite woman had an enormous hold-all, almost as big as herself slung across her shoulder.

Strangers on a Train
The return train this afternoon is so busy that I can't find a seat and standing in the aisle I can't see out of the windows but that isn't going to stop me drawing. Having done my best with the figures partially visible through the doors at the end of the carriage I don't feel that I want to start staring intensely at the people seated around me.


Excess Baggage

People and their baggage might be my preferred subject but the baggage itself has a character of it's own. I draw the case and haversack on the luggage rack to my right . . .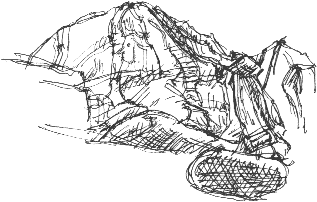 . . . then switch my attention to the hold-all on the rack to my left.
This soon passes the journey. I realise that I won't have time to do justice even to the bags on the luggage racks before we arrive at Leeds.
What thy left hand is doing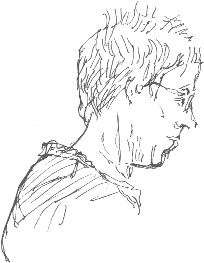 I'm able to sit down at Leeds. There are some fascinating faces around me but the start of the Friday afternoon rush hour in Leeds doesn't seem to right time to ask 'Do you mind if I draw you?'
I felt that I could draw this woman reading a few yards without unnerving her too much. She turned and smiled at me at one stage.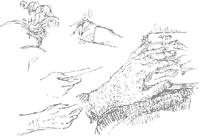 Just in case someone turns to me and says 'And who do you think you're looking at, pal?!' I decide to draw my new pen at work (see the Lendal Bridge page) in my right hand, then start drawing my left hand which is easier - it's not moving about as I draw.

I like this drawing: I find hands difficult, especially when I get down to the area above the wrist. With the fingers you can get a grip on the shapes by looking for the negative shapes - those V-shapes - between the fingers but lower down the shapes are less defined and it's more difficult to relate them to corresponding negative shapes. What I found myself doing here was relating the curves along the sides of my hand to the thumb and fingers that I'd already drawn (i.e. 'that slight bump is directly horizontal to my thumb nail').
I'm not keen on fibre tip pens as a rule, they tend to produce a slightly mechanical, too regular line but I'm happy with this. I think that if someone told me it had been drawn with my favourite fountain pen I'd believe them
The advantages of the Staedtler over my fountain pen are not only that I could add a watercolour wash to this drawing and it wouldn't run but also if I was working on location on a dodgy day for weather a single drop of rain wouldn't immediately smudge my drawing.
Gardener's World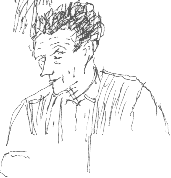 I so much enjoy the opportunity to draw just for the fun of it that when we sit down to watch television in the evening I pick up my sketchbook and new Staedtler pen again.
If I'd spent all the time I've spent watching Gardeners' World in the garden actually doing the work we'd be a lot further on with our garden.
This is the last programme of the series: Monty Don (left), Rachel de Tame and Chris Beardshaw are making final preparations to see the garden winter.
What happened to the summer/autumn?!
With our garden I keep telling myself that we'll really catch up with it next year. I've been saying that for the past 20 years.

Related Links
Richard Bell, richard@willowisland.co.uk