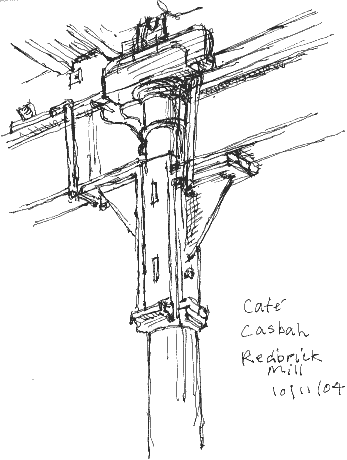 Well, it was the other way around actually: I've been busy printing, publicising, packing and posting, so Barbara took me out to our favourite café, the Casbah at the Redbrick Mill, Batley, for a morning mocha and a Manchester Tart (shortcrust pastry, raspberry jam and custard topped by dessicated coconut, and no doubt you could still lose weight provided it forms part of a calory-controlled diet).
Thanks to my experience of my 3D modelling program I find that, as I draw this, I analyse how I'd make those shapes in the column from cylinders, toruses and cubes.
The Redbrick was a textile mill so there are large north-facing windows in the café, making it a pleasant place to sit and draw. The cast iron pillar was designed to be robustly practical and this makes a more attractive subject than the most pretentious plasterwork with cornices and acanthus leaves. Give me simple form any day.
I say that, but I enjoyed drawing the over-the-top sentimentality of the Victorian headstone carvings of birds and flowers last month.
I was delivering books to a local bookshop the other day and the owner looked my latest and said; 'I wish I had your job! Going around, sitting in cafés and drawing things.'

Mug's Game
They've stopped serving mocha in a tumbler with a paper serviette tied around it around it here and they're now using these mugs.

We spot Lynne Green who runs the new Art of 3 gallery at the mill. I show her the sketch I did of her making her opening speech in August (see 5th August) and she asks if she can photocopy the page.

By this time Barbara and her Mum (who's buying the coffees, thanks Mum) are browsing the Christmas food hampers while I have a second mocha. Aggh! deprived of my sketchbook for 5 minutes!

I draw on the little serviettes that the mugs stand on in their saucers.
My Cup of Tea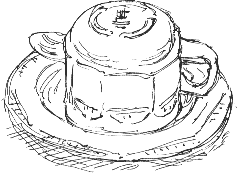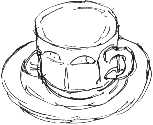 After browsing around the store the effects of that Manchester Tart are wearing off, so we call at the Queens Drive Fish and Chip Restaurant in Ossett for lunch.
No Victorian pillars, so I turn my attention to the tea cup.


Richard Bell, richard@willowisland.co.uk