A diffident dunnock lurks by the tub watching the house sparrows that have gathered around the seed hopper. The dunnock picks daintily at morsels on the ground while the sparrows bicker and scatter seed around as they tuck in at the trough.
I imagine one of those television shows - there is one called Faking It - where an unlikely candidate gets special coaching to enable them to pass themselves off as the real thing.
In this case the voice coach would be saying to the dunnock: 'It's "CHURP! CHIRP! CHURP! CHURRP! CHIRP!"'
Dunnock: 'I think I've got it: Chirrupp! Chirrupp!'
Needless to say, when the dunnock does pluck up the courage to elbow it's way in, it soon gets chased off by a belligerent sparrow.
John Holden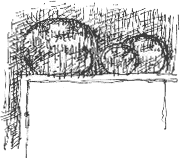 We haven't been to the Redbrick Mill for a month or two but, after yesterday's morning coffee, we're back there again for a meet the artist evening at Art on 3.
I could best give you idea of John Holden's work by saying it's in the same tradition as Mondrian. It's beautifully painted, perfectly balanced in its arrangements of squares and lines of, often, intense colour. Large acrylic canvases occupy the main space but, I found - being into drawing rather than painting - I warmed to the drawings in the smaller room. A couple of these featured dark moons, one drawn in the pointillist style of Seurat.
I found myself drawing this group of black pots on a sideboard in the adjoining showroom in a similar style.

Related Link

John Holden at NuMasters.com foyer gallery resources.


Richard Bell, richard@willowisland.co.uk