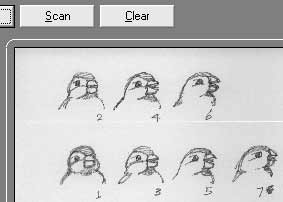 After a day printing booklets, I don't want to settle down to a serious drawing so I quickly draw these seven cartoons of a sparrow's head and animate them in Photoshop/Image Ready.
As usual with these looping animations, I repeat drawings 2,3,4,5,6 in reverse order (6,5,4,3,2) to return to the beginning of the sequence.
After the highly polished 3D scenes that I've been making in Vue d'Espirit 3, I felt that I wanted to go back to simple pencil drawing but I've got a similar aim; I'm still trying to create an illusion of three dimensions. Pencil drawing is so familiar as a two dimensional medium and I've always found it magical to see it coming to life. When I worked on the cartoon version of Watership Down I found it fascinating to see the black and white tests of the pencil stages of the animation. These were shown on the small screen, not much more than six inches across, of an editing machine.
I look forward to trying a few more of these simple animated GIFs.

Richard Bell, richard@willowisland.co.uk