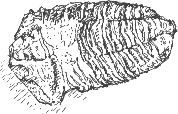 This fossil trilobite from the Atlas Mountains is 7, nearly 8, centimetres long.
The animal is divided into 'head', 'body' and 'tail', or, to be more correct, cephalon, thorax and pygidium.
This is probably the discarded exo-skeleton rather than the complete of the creature; fossils including legs and soft parts are rare. Like a crab, it went through several moults in its lifetime.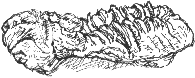 The side view reminds me of dodgem car that's been in a collision. From the front it's more like one of the shuttle crafts from Star Trek.

Richard Bell, richard@willowisland.co.uk