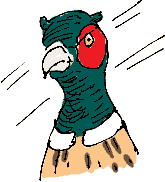 There's a tapping and my first impression is that it's our next door hammering but we soon realise that it's a pheasant - Bar-none, to be precise - pecking at the patio window. If we laid a trail of corn he'd come in!
The broad white ring around his neck reminds me of those worn by the 'self-styled floppy-collared-clown-prince-of-daft', Harry Hill, who, I discover when I take a look at his website (see link below) is also a painter in an English pop art tradition.
His paintings echo the world of the shows, which I first came across on radio - which I feel is a very visual medium - and include characters who wouldn't look out of place in a Peter Blake painting.
My favourite was Chief Scientist (and greengrocer, if I remember rightly) Finsbury Park . . .
The Great Ash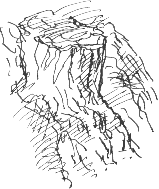 I've got to go through with it sometime: we walk along the stream-side path where they felled the big ash tree to make way for a housing development. I hadn't realised it was such a large stump and, as a neighbour commented, with not a trace of rot. It would have outlived us all. The estimate of 150 years as its age might be an underestimate if the girth is anything to go by.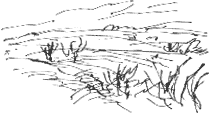 It's good to do our regular longer walk to Thornhill again. There's a feeling of winter rather than autumn today. It feels as if the season has changed. This stark, simple landscape is just what I needed, as is the flask of tea at the cold metal bench in Thornhill Park. We bring a couple of foam kneeler pads with us to sit on but our backs leave circles of condensation where we've been leaning back.

Related Link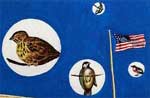 Harry Hill (detail from Monkhouse by Harry Hill).
Richard Bell, richard@willowisland.co.uk