Crab Eaters
Thursday, 20th November 2003
Richard Bell's Wild West Yorkshire nature diary


Previous Page | This Month | Home Page | Next Page




We don't often have grey squirrels climbing in the crab apple but today there are two nibbling the apples, along with the more usual blackbirds.
Henry Boon's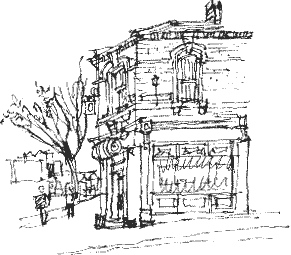 As I wait to pick Barbara and her Mum up from Wakefield Westgate station after their Christmas shopping trip to the Meadowhall centre I've given myself time to do a quick drawing or two.
Rather than chase around for the perfect subject in the limited time I've got I sit on a wall by my parking space and draw what's in front of me, which happens to be Henry Boon's pub (see link below) , a Victorian building on the corner of Westgate and Parliament Street.
And, really, it is as good as anything I could have chosen to draw: I've got in mind what Dan Price - probably best known for his accounts of wanderings in the wilderness - wrote on a visit to New York, when he spent some days out drawing with Danny Gregory:
Doorway on
Charles Street,
D. Price © 1998

. . . the days just go floating on by. The peacefullness comes from finally not really GOING anywhere. To discover that here is the best place to be and that NOW can indeed last forever . . .
This is a new thing. This is a good thing.

Moonlight Chronicles in New York,
(number 24)
Moonlight Chronicles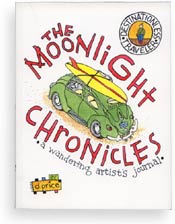 The style of the pub isn't dissimilar to the Charles Street door that Price drew. When I'm working on my village guide booklets it's rare for me to draw quickly on location - for practical reasons I usually draw from photographs - but Price's Chronicles and Danny Gregory's Everyday Matters make me want to get back to drawing on location.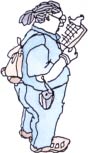 Price's drawing (right) of a 'bus dispatcher on the corner of W14th and 9th' is on that same page in his New York Chronicles and she's there again, this time in colour, on the last page of the paperback compilation of Moonlight Chronicles which, I recently discovered, is now available in the U.K. (see link below).
He makes his 'Chronicle Creed' - 'All us scribes on the friendly planet earth promise to continue our sketching ways' - seem so inviting and simple to achieve. It makes me eager to get off on some trip soon with a sketchbook and with nothing more in mind than to draw whatever I come across . . . and to simply experience life.
Price's book is one of those that makes me think: 'Yes, that's it: that's how life should be lived!'
Westgate Skyline
And the great thing about drawing is that, unlike snowboarding, round-the world yachting or bungee jumping you don't need any special equipment or any special place to practice it. I haven't tried the other activities but I think drawing can change your view of the world just as profoundly (more so, I guess, than bungee jumping which seems to be more of a physical sensation and to give only a brief opportunity for looking at the world!).

So, with nothing more unusual than pen on paper, I drew this is the view over the rooftops, looking up Westgate from platform 2. The big building is Unity Hall, once a thriving venue for barn dances, film shows and the meetings of local societies but currently closed for renovation.
Rooftops tend to be fascinating to draw because it's here that you're most likely to catch the builders and architects off their guard. The statements you're meant to see - like those Victorian doorways - are usually targetted at you at street level. There's a bit of history even in this partial view as the buildings along Westgate illustrate the growth of the town along the western road ('gate' is from the Viking gata meaning street or path).
And besides that there's the more abstract interest of those overlapping triangles and rectangles and the rhythms of the rows of windows.

Related Links
Tenspeed Books publishers of the Moonlight Chronicles compilation.


Previous Page | This Month | This day in 2001 | Home Page | Next Page