A Pecten for a Pilgrim
Wednesday, 19th November 2003
Richard Bell's Wild West Yorkshire nature diary


Previous Page | This Month | Home Page | Next Page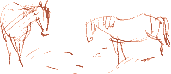 These days it's starting to get dark by four and , after a day of errands and sorting out technical stuff on the computer I decided that I had to draw something - anything!


The ponies circle around each other and knuzzle each other on their patch of hay in the meadow.
Pecten

This scallop shell, which we picked up on the beach last week at Scarborough is 6 cm in diamter; they grow to 15 cm (6 inches) and will live to 20 years. Unfortunately on their offshore sand and gravel beds all around the British Isles their numbers are much depleted.

Seen from the edge the ribs of this species, the Great Scallop, Edible Scallop or Clam, Pecten maximus, are round in section, like a corrugated roof. It is the related St James Scallop that was used as a badge, and as handy water scoop and food bowl, by pilgrims on the the route to Santiago di Compostela.

They would find the deeply cupped right valve of the scallop the most useful: the left valve, the one I've drawn, is much flatter.



richard@willowisland.co.uk


Previous Page | This Month | This day last year | Home Page | Next Page