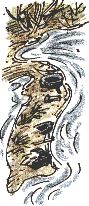 There are no fewer than six footballs (and one motorcycle helmet) amongst the flotsam in the Calder today. I imagine a big tree, like a baobab, somewhere upstream near Dewsbury with branches overhanging the river, dropping its football fruits which drift with the current like coconuts to wash up on some distant shore: Horbury Bridge.

In the deep gully that Coxley Beck takes before it plunges through a tunnel to the river a grey wagtail perches on a piece of white boarding, which looks like a stray piece of pack ice amongst the twiggy debris.
Hips and Haws

Rose hips


Redwing

On some hedges there is nothing on the bare branches but hips and haws. I have an e-mail asking what the phrase 'hips and haws' means:

As far as I know haws refers only to the fruit of the hawthorn. As they're ripe at the same time as rose hips it's natural to lump the two together. Hawthorn is in the Rosaceae, the same family as the rose, but I don't think I've ever heard of any fruit associated with wild or cultivated roses being referred to as a haw.

I think it's the kind of pairing that slips off the tongue, like oranges and lemons, cats and dogs or slugs and snails.

Were haws ever eaten? They're woody, but the fieldfares and redwings, winter visitors from Scandinavia and elsewhere, feast on them so there's evidently nutrition in them. It's been quite a good year for haws.

During the war, children collected rose hips by the sack load for rose hip syrup, a vitamin C supplement in the days of rationing (and still available in the 1970s) but I've never heard of anyone collecting hawthorn berries.



Haws


Fieldfare
I remember 'itching powder' being referred to in children's comics. It was a practical joke product consisting of the prickly seeds found inside rose hips. Barbara tells me that the boys at her junior school sometimes had packets of the stuff and on one occasion they put some down her neck. From her description it sounds as if it consisted of dried rose hips seeds.

Related Links

Looking up 'ice floe' I found these two sites that are poles apart:
North Pole Web Cam: the North Pole is in Winter darkness from October to March the last clear image before winter darkness (left) was taken at 21.34 on Sunday, 19th September. Even then the internal temperature at camera 1 was down to -9.5°centigrade.

South Pole Web Cam (right) from the roof of the Atmospheric Research Observatory.

Both are NOAA (National Oceanic and Atmospheric Administration) web sites.
Picking Rosehips and the Rosehip Syrup Factory 1956 from the BBC Nation on Film archive.
Richard Bell, richard@willowisland.co.uk