Back in Huddersfield again, delivering books (you can now buy Dales Way Diary in Ottakar's on New Street) and I've just got time to start sketching this view, looking E.S.E. from the multi-storey car park by the bus station, while Barbara runs down 8 flights of stairs and pops through Imperial Arcade to deliver them. It keeps her fit.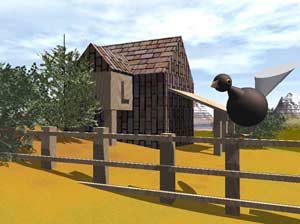 When I started this little landscape (right), I was thinking of the American painter of barns; no not Andrew Wyeth, the fellow who used to pop up on cable television and conjure up a weather-beaten old barn in impasto oil paints. I doodled it in spare moments yesterday on Vue d'Espirit 3D and, as it was Thanksgiving, thought I'd better add a rudimentary turkey.
I found I could get good results with Vue from the first simple tutorial. It's been a pleasure to use but I've been having trouble getting into a couple of other 3D programs, Amapi 3D and Carrara Studio 1.1. They're old versions, but then so is Vue, and they both seem a bit unstable on my machine, especially Amapi, which is a full modelling program and so, inevitably, more complex.
I think I'll go back to Vue and go through its possibilities more thoroughly before attempting anything more ambitious.

Richard Bell, richard@willowisland.co.uk