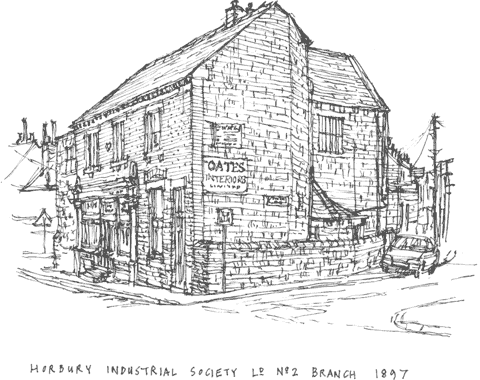 Its facade embodies solid, respectable Victorian progress while at the rear, in order to make the most of the corner site, it's more like the house that Jack built, with sawn-off corners and mini-extensions, built of chunkier blocks of sandstone: Victorian front, Dickensian behind.
Another Monday morning and here I am again (in better weather than last week), drawing another former corner shop down Horbury Junction. Now Oates Interiors, this was once the number 2 branch of the Horbury Industrial Society (later known as Horbury Industrial Co-operative Society), built in 1897.
That reminds me of a Scottish television commercial of the 1960s: 'Mrs McGregor gets her oats at the Co-op.'
Barbara remembers as a girl occasionally spending a Saturday here when her mum and dad ran the branch. She found it fascinating to explore the hidden world of the stock rooms.
While so many shops of this period have had brutal 1960s designer treatment and others have been marred by the necessity for heavy security shutters, this property has retained its impressive Victorian display windows and stepped entrance intact and unencumbered.

Addingford Steps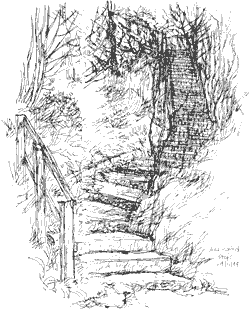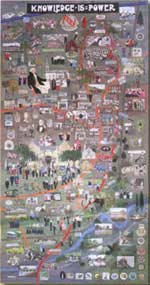 The town guide Around Old Horbury, that I wrote six years ago, got as far as the top of Addingford Steps. The pen and ink drawing I made (which included Cleopatra, the local black and white cat) has now been immortalised as a scene in the town's 8ft x 4ft tapestry (right), to be unveiled in the new year in the town's Carnegie Free Library, which will be celebrating its centenary.
The woman who adapted my scene transformed my scratchy pen and ink vegetation into three-dimensional knotted textures of subtly modulated colour. When I saw the exuberant inventiveness of her work I was surprised to learn that she'd only recently taken up embroidery.
For Four Corners I've come down for this view of the bottom of the steps. Amongst the dry grasses on the left is a colony of wood sage, which thrives in such dry, rubbly habitats. Its leaves are rumpled like those of the (unrelated) herb sage.
Tricky subject: working downwards, I got as far as the top of the bottom step and ran out of paper. Returning after lunch with my sketchbook clipped to a drawing board, I extended the drawing to the left and, marginally, below onto an A4 sheet of cartridge. OK, OK, I know you can still see the join! My friend John Welding suggests I should include it as a fold out in the new book.
A heck of a lot of embroidery for someone there.

Chicane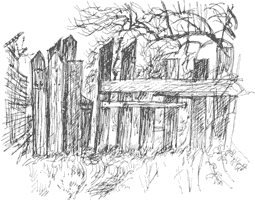 By the time I've finished the steps, the short winter day is fading but I've time to set up my folding chair (I had to stand to draw the steps) on the riverside path behind Addingford Mill and pause for a small flask of tea before drawing this spiky chicane of a stile built of railway sleepers, an old power line pole and recycled planks.
At five to four the light has almost gone and I hear a whispering, whistling, wheezing behind me -
tchou-tchouff . . . tchou-tchouff . . . tchou-tchouff . . .
- like windscreen wipers on steroids.
I look over my shoulder up river to see two mute swans (the noise is their wing beats) looming out of the pre-sunset sky. They go over about 15 feet above my head, white feathers tinged with pinkish gold evening light, commuting to their roost from their daytime haunt by the canal basin.

I'm drawing the stile for the last page of my book and this image of the valley's commuters going through the cycle of their lives is a perfect one on which to finish.
But there are a few intervening drawings still to be completed.

Richard Bell, richard@willowisland.co.uk