Cormorants
Monday, 2nd February 2004
Wild West Yorkshire nature diary
---

Previous Page
|
This Month
|
Home Page
|
Next Page

---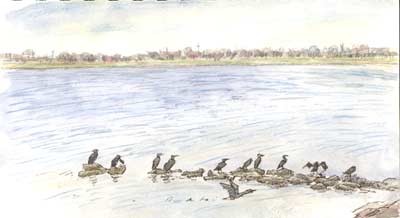 Cormorants sitting on rocks: it's a welcome touch of wilderness on a rainy Monday morning, even if these cormorants are as far from a wild coast as they can be in Yorkshire. They're sitting on sandstone boulders that have been stacked to make small islands on the shore of a lake that, at the time of its construction, was the largest in Britain to be lined with a butyl sheeting: Anglers Lake, three miles south-east of Wakefield, was constructed on the site of an opencast coal mine.
For me cormorants have a rather prehistoric look. They sit on their rocks like heraldic beasts, spreading their wings to dry, preening or just staring into space.


A passing coot makes a noise like the hooter of a toy car. When a cormorant flies in there's a grunting and whinnying of welcome (or, more probably, dispute). I didn't realise that cormorants could be so vocal.
The coot dispute has escalated: one tries to dive out of harm's way as the other pursues it, calling and looking menacing.
| | | |
| --- | --- | --- |
| | | |
| Cormorant drying its wings. | Juvenile cormorant. | Preening. |



I find it difficult to draw holding the binoculars in my left hand and the pen in my right so, instead, as the rain passes and the light gets better, I draw the cormorants the size that I see them.

Related Links
cormorants.info protecting your fishery from cormorants.

Richard Bell, richard@willowisland.co.uk