Fresh Month
Sunday, 1st February 2004
Wild West Yorkshire nature diary
River
Sun and clear blue skies: it seems as if January was mainly grey cloud, drizzle and rain. The river is a reminder of just that: it's now in full spate after a day or two of fairly continuous rain.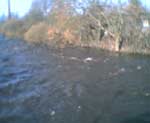 I thought, as it's a new month, I'd go for a fresh look for the diary.
The colours in the landscape are so fresh in this welcome morning sun that I find myself thinking that I could use the colour of bare trees against the sky for text, the eau-de-Nil of the river for headings and the clear blue of the sky for other elements of the page.


Colour Swatches

My matchbox-sized digital camera isn't brilliant at landscape (it's much better at close-ups). It adds an impressionist blur to water and trees but at least it's a useful tool for picking up swatches of natural-looking colours. I sample some of them using the eye-dropper tool in Dreamweaver and assign them to headings and horizontal rules in the stylesheet I use when designing web pages.
It's not that I didn't like the previous design for my nature diary but it's spring, well very nearly spring, and I felt ready for a change.

Richard Bell, richard@willowisland.co.uk