Runner Beans
Tuesday, 27th January 2004
Richard Bell's Wild West Yorkshire nature diary


Previous Page | This Month | Home Page | Next Page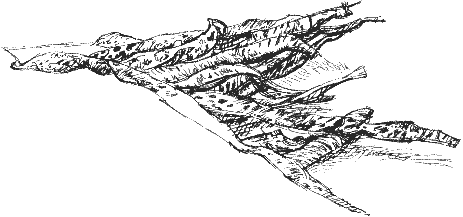 These leathery-looking, leopard-spotted pods curve and writhe like seals on a rookery beach (of course they're not actually moving, although I was unable to finish this drawing because I knocked the box I'd put them in and there was no way I could get them back in the same arrangement again).


The pods are tinder dry; they snap and crackle as I prise them open. They have a pearly lining. The beans are magenta pink with deepest purple streaking covering almost the entire bean. They're lustrous, as if they've been polished pebble-smooth, and sit, some still attached by an umbilicus (the bean's 'eye') to the side of the pod, like a pharoah in his his sarcophagus, awaiting rebirth.
Pods v. Beans
We harvest our runner beans in the summer. We try to pick them before the beans fully develop, as the pods - which we slice and boil - soon start getting stringy. In Italy it's invariably the beans themselves that are eaten: they are used in soups and stews. We've never tried that.
The runner bean, or Scarlet Runner, Phaseolus coccineus, grows in the wild in the mountains of Mexico and in some South American countries.
Early Crop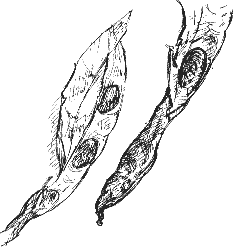 We've been tidying up the vegetable beds but, before we dismantle the garden cane wigwams, I pick the remaining pods from the withered plants to use the beans as seeds; I'm going to try growing an early crop by planting some of them in large pots in the greenhouse in March. I'll plant them outside when I put the tomato plants in the greenhouse in May.
Further south in England it would probably be possible to grow and harvest the crop in the greenhouse before the tomatoes go in. Here in West Yorkshire there probably would not be time to harvest the crop by May.
We can have frosts as late as May which would kill the unprotected bean plants, so I'll be lucky if I get this to work.



richard@willowisland.co.uk


Previous Page | This Month | This day in 2001 | Home Page | Next Page