It's not surprising that the ponies in the meadow appear so frequently in my diary: as I sit at my built-in desk, under the large skylight window, they appear about the size you see them here: around an inch high. It's as if I had a shelf above the desk with three model farmyard animals on it.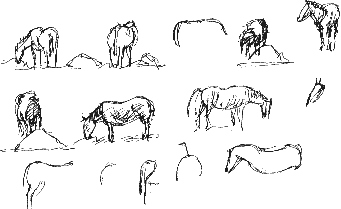 They're standing perfectly still - that's rare: they're usually scrapping with one another - waiting for their afternoon feed of hay. When they've had their fill they wander off out of sight.

Of course after this morning's snow and cavorting around in that mud they're not as glossily perfect as their scale model counterparts.
As schoolboys my brother Bill and I constructed a model railway which we populated with Airfix 1/72nd scale civilians, zoo animals and farm animals. The trains never ran on time. They were secondhand and we hadn't the technical skill to get them back in working order. But the scenery was spectacular.


Related Link
Airfix farm stock (1960) in Plastic Soldier Review: 'Farm Stock is very rare these days,' the reviewer concludes, 'as it went out of production quite early on. Still when an army wants it's food fresh, this set provides a good variety of tasty options.'
Richard Bell, richard@willowisland.co.uk