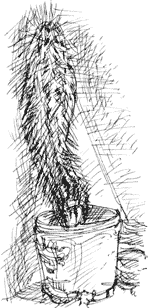 Spikey, covered in long grey hairs and slouched in a corner of the studio . . . but enough about me: let me tell you the story of this cactus.
I've been somewhat obsessed with spring-cleaning the studio recently and removing this wobbly, overgrown obstacle is one of the last things I have to do to finally free all my deskspace. I haven't seen my desks so clear of clutter for months, years probably.
The cactus dates from those days in the 1970s when , after I had finished art college, I shared a flat. One of my flatmates was going through a bad patch. A really bad patch. There was a happy ending though: off she went to be happily married and to have two boys, now grown up. Leaving me all alone with my artwork in the flat.
*Sigh!* But I did get something out of it: the note read:
'Dear Richard, Thanks for everything, Lots of love,
P.S. please look after my cactus.'
Oh well; another prickly episode consigned to the compost heap that is my life.

Richard Bell, richard@willowisland.co.uk