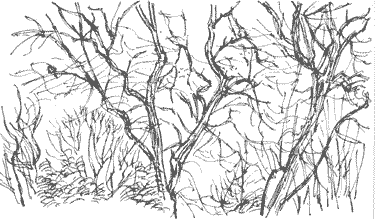 While the view from our back window of hawthorn hedge, weeping willow and crack willows in the valley beyond is now predominantly freshly green, these lime trees, seen from a friend's house in Horbury, have yet to burst into leaf.
A wood pigeon settles on one of the branches.

Tess presents a bit of a problem to draw in black pen: shadows, black; highlights, lighter black; mid-tones, mid-black.

She's the sort of dog who barks at you as if you're a felon as you enter the house, soon curls up and apparently dozes off as you sit chatting but, as soon as you pick up a biscuit, comes and looks at you in silence with big round doleful eyes.

Sorry Tess, that doesn't work with me. She soon curls up and goes back to 'sleep'.
Richard Bell, richard@willowisland.co.uk