Hobo artist/journaler Dan Price recently said that his ambition was to one day wake up and not to have anywhere that he had to be. At last I've reached that stage - perhaps for one day only, who knows?! - so I'd better make the most of it.

My old life has been slow to give me up: most of Sunday was taken up with a final revision of the proofs for a second edition of my Village Walks in West Yorkshire, first published in 1998.


This is what my copy looked like after I'd revisited the 20 walks this winter.
Village Walks
Then most of yesterday was taken up with my last guided walk for Manygates Further Education Centre, Wakefield. It wouldn't have taken so long but, as this was my last walk after 13 years of doing the but I suggested we should meet for lunch in my favourite country pub, The Chequers at Ledsham. The village church, dating from Saxon times, is probably the oldest standing building in Yorkshire. There are stone-built almshouses an old school and a farm nearby. Our walk took us, via copses where forget-me-not and cuckoo pint are in flower, around the lagoons of Fairburn Ings RSPB nature reserve where a pair of gadwall dabbled in a secluded bay in front of one of the hides. The walk is included in my book.
So that's two days taken up with guiding people, on paper and in reality, around the woods, lanes, nature reserves and villages of West Yorkshire. I could hardly think of a pleasanter and more satisfying job but I'm giving up guided walks - and talks, teaching and commissions in general - to concentrate on what I believe is my core activity: drawing from nature (not just natural history and the landscape, I mean from life, from the 'Ten Thousand Things' that we see around us every day).
So where to start, if I don't have to be anywhere in particular today? The temptation is to say: 'Right, I'll quickly get these last book design jobs out of the way, then I'll start my real work - drawing - tomorrow.'
Seeing/drawing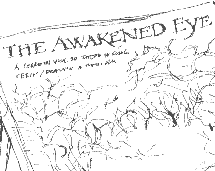 As a timely reminder to myself of what I want to do, I've just made a point of re-reading The Awakened Eye by Frederick Franck. This is enough to make me pause for a moment before I step onto the hamster wheel of designing and producing my booklets.
His number one rule in his Ten Commandments of seeing/drawing is:
YOU SHALL DRAW EVERYTHING AND EVERY DAY
I stop and draw his book which I've just put down on the folding stool in front of me.
Franck's books on seeing/drawing are handwritten. He refers to his first, The Zen of Seeing, as 'the book that was a love letter'. I've been annoyed that my 1980 copy of its sequel, The Awakened Eye, in its less than perfect 'perfect' binding, is now falling to bits and its pages pop out at each re-reading but I realise that this makes it all the more special: it now resembles a card folder stuffed with a bundle letters and, for this reason, I wouldn't want to lend it to anyone, in case one of the pages goes adrift.
The Awakened Eye is a great refresher course and makes me eager and enthusiastic to draw again. Just to give you a flavour of it, here's a quote from Zen scholar R H Blyth that Franck includes:
'What the reader, the viewer, needs to understand - and this applies to both haiku and drawings - is not so much 'art' as places, seasons, moods, life itself.'
That could be a mission statement for the work that I want to get involved in now.

Related Links
Frederick Franck: a review feature from Spirituality and Health
An interview with Frederick Franck by Rod MacIver of Heron Dance
Countryside Books who publish my Village Walks in West Yorkshire
Richard Bell, richard@willowisland.co.uk