Stork Alert
Coxley Wood from the studio window, 8.30 pm, looking east as the sun sets behind me. Clouds melt away as the colour changes on a sliding scale.
I've just had an e-mail from my illustrator friend John Welding and he tells me that he and Helen were cycling by the canal at the time that the storks were making their nesting attempt in a blaze of local and national publicity:
we didn't see any birds but we did see S.W.A.T. style policemen along the canal guarding the area. Very exciting!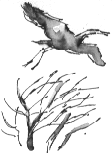 As I paint I'm on stork alert too . . . what's that?!
Oh, it's just a heron coming down into the meadow . . .
. . . And that?!
Hmm, the heron taking off again.
At last! - in the corner of my eye - a glimpse of broad wings gliding majestically over the wood:
a low-flying jet on it's way to Yeadon.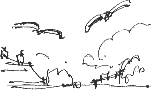 For what it's worth, this was the last view that we had of the storks, or what at the time we were convinced were the storks, on Monday, 3rd May, flying over our house to the north west - so not in the direction of the attempted nest site butabout half a mile west of it. Although we were both pretty sure they were storks when we saw them but there wasn't time to grab our binoculars. They looked like two animated black and white football scarves.
Could they have been two herons? Well, we usually see single herons here, we're four or five miles from the heronry at Bretton on what seems to be a commuting route for them. These were flying along together, they seemed to be interacting with each other, tipping up their wings. Herons are more usually on their own. These didn't have that plodding purposeful flight that herons often have. Wish I'd had the binoculars handy.
We had a much better sighting of a stork in the same general area, above the farm at the end of Hostingley Lane, turning to head towards the Coxley Valley area (where the pair have been seen several times) on Saturday 1st May.

The Sky Itself

Barbara's out, so, for once, I'm not sitting chatting over a glass of wine but I can't settle to the wildlife film on television so I take the chance to paint a watercolour, using one of my new sables, of the early evening sky. I know that from the way it is changing I haven't a hope of catching it but I thought, well why not? I'm always so ready to pick up a pen and draw a tree or a still life object. I resolve try and paint more skies.

I've been looking at some impressive colour wheels on the web but I don't want to get involved in them just at the moment. I think the odd watercolour of the sky will have to be my equivalent of studying colour theory.

When I was painting it crossed my mind that it might be useful to look again at one of those How to Paint Skies books but then I realised that that wouldn't really help because I don't want a foolproof recipe to paint 'a' sky; an ideal, professional looking sky: I want to paint this particular sky, exactly as it is, and the best guide to that is the sky itself.
Related Links
John's Goatland Chronicles series of zines is reviewed at Zum!

Richard Bell, richard@willowisland.co.uk