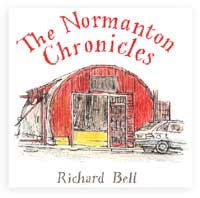 What I'd most like to do today, what I'd most like to do almost any day, is get out there drawing but the passing showers (including a battering of hail and a deluge this afternoon) make it a good day to catch up here in the studio. Besides there's no point in me doing more drawings if I don't get some of those I've already done into print.
I'm currently writing a brief text for The Normanton Chronicles to go with the drawings I did in that small Yorkshire town but today I need to do some of those small but necessary jobs: designing logos etc. I can have a lot of fun fiddling around with things like this.

As there's a sub-theme of waiting rooms in the booklet I decide to use the goldfish I sketched at the dentist's at the time I was working on location on Normanton.
My series is called 'Sketchbook Sushi' and I think that these brush pen fish give it a suitably Japanese look. It's appropriate to use a real 'raw' sketch, not one that I've cooked up especially for the logo. Yes, they do look a bit worried that they might be converted to sushi too, but then goldfish never look all that happy, do they.
8 lbs of Rhubarb Jam

Something is cooking in the kitchen: Barbara and her Mum are converting the rhubarb stems I pulled this morning into 8 lbs of rhubarb and ginger jam.

This art pen drawing of a rhubarb flower stem is one of my favourites out of those I did last year. I remember feeling relaxed but absorbed as I drew. It's a great subject which, like the goldfish, reminds me of Japanese art.

Our rhubarb grows year after year from a clump at the bottom of the hedge, half way down the back garden. A flower spike was beginning to open but I had no time to draw it and I pulled it out (it draws on the rootstock) along with all the stems that were growing out over the path. We can now get down that side of the veg beds. A new crop of stems will have grown in few weeks time.

Rhubarb is a trouble free crop for us. The leaves are so loaded with oxalic acid that nothing eats them, not even the young rabbit that I saw popping out from under their umbrella-like shelter during a rain shower this morning.

Barbara and her Mum decided to omit the lemons from John Seymour's recipe in The Self Sufficient Gardner and we're now wondering if the jam will set. It may be runny but it looks and smells good and I look forward to having it as a change from marmalade on toast in the morning.

It's good to get some produce out of the garden so early in the year.
Wabbit Wedding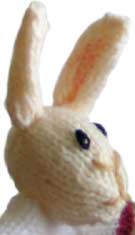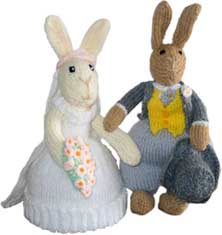 Talking of darn wabbits, my peace and productivity in the studio is invaded by a wedding party. Arranging the 10 inch high figures on my plan chest, Barbara photographs the rabbits that her Mum, Betty, has knitted for our niece Emma's wedding next month.
Betty always claims that she's not at all creative. She can knit to a pattern* she says; maybe, but she's managed to get so much individuality into this rabbit wedding group which includes three bridesmaids.
The bride is pretty but perhaps not the most intelligent of rabbits.
The groom is evidently a bit the worse for wear after his stag night with the other young bucks, he's having to hang on to his bride to steady himself and he can hardly walk in a straight line. By the way, if you try to talk to him you'll get no response: Betty realised that she'd sewn on his ears the wrong way round so they're facing inwards!
The bridesmaid (left) didn't seem at ease during the photo session. She's probably thinking 'If it's sushi for the first course at the reception what are they going to put in the pie for the main course?'

* The patterns Betty used are from Alan Dart's Bridal Bunnies from his Knitted Keepsakes series (Sirdar 296).

Richard Bell, richard@willowisland.co.uk