'Richard, have you ever seen anything like this?!'

A neighbour and his granddaughter and another man are looking over the bridge into the canal. In the muddy waters we can see three large carp floating lazily together just below the surface. The biggest must be 18 inches (45 cm) long and with such a chunky body I guess that it weighs in excess of 3 lbs. Probably way in excess of 3 lbs.

The large, crescent-shaped scales are plainly visible on their backs.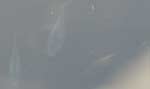 I should point out that I've vastly increased the colour contrast in these digital photographs. The original natural colours - light mud against mid-mud - are shown on the left.
I've never spotted carp in the waters of the valley before. I would imagine that these have either escaped from a garden pond, perhaps at a time when the local beck, which has an overflow into the canal, was in flood, or that they've been deliberately introduced to the canal by fishermen.
Along with the storks, which are still around but not at the nest site this morning, they bring an Oriental feel to the familiar watery world of our stretch of the Calder Valley.

Richard Bell, richard@willowisland.co.uk