Two blackbirds are engaged in a melodious duel in the neighbouring gardens to the left and the right as I sit at the bench by our wildlife pond and draw the kingcups, also known as Marsh Marigolds, Caltha palustris, in the last patch of late afternoon sun.
The kingcups were looking fresher when Barbara photographed them almost a month ago. Now clusters of pod-like seeds are appearing.


A female smooth newt turns sinuously just below the pond surface.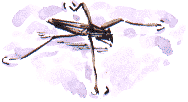 There are plenty of pond skaters this year, gliding about on the surface but if I don't control the floating plant that is, as usual, threatening to take over the whole pond they soon won't have any space left to move in.