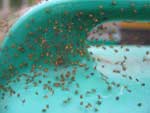 While we've been away for a week one of the watering cans in the greenhouse has been adopted as a spider nursery. The youngsters creep out along strands of silk when Barbara picks up the can.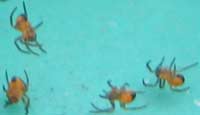 I take a close look at them, relieved that these aren't red spider mites which can be a problem in greenhouses in the summer: 'A fine pale mottling develops on the upper leaf surface', of infested plants, warns the Royal Horticultural Society; 'In heavy infestations fine silk webbing can be seen on the plants.'
The spiderlings though are welcome; in such numbers they should help control some of the pest species - such as aphids - that might appear in the greenhouse.

Related Link
Red Spider Mite advice from the Royal Horticultural Society
Richard Bell, richard@willowisland.co.uk