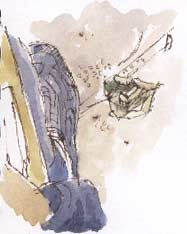 I'm reading Keeping a Nature Journal by Clare Walker Leslie and Charles Roth. As a way of getting yourself to look at the whole environment: they suggest starting by looking at the world at your feet, then look at things on eye level and finally relate these to the more distant landscape and the sky above.

Like extras in some epic, milling around in the desert at the foot of some colossus, ants are patrolling the paving slabs around my trainers here outside a Health Centre in Horbury.
Horse Chestnut leaves on a small banking are rapidly turning to leaf mould.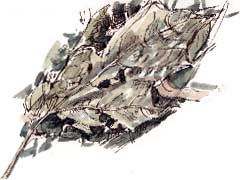 Those ants are thorough; one of them explores the surface of this sycamore leaf. A rooster is calling fromt the leafy garden next to the health centre. That's another suggestion in the Nature Journal book: make a note of the sounds around you. But before I start drawing the wider landscape as they suggest we decide to go in search of a pot of tea. It's cool for June.
I'm drawing with Danny Gregory, who is over for a long weekend with us. Here we are, the two of us, on a cool rainy afternoon sheltering under the canopy of the health centre. Danny is sitting next to a dumpster as he draws an old building on the high street.
He's come all the way from New York for a weekend drawing and ends up sitting next to a dumpster.
Jock the Spam Killer
NOTE: If you've tried e-mailing me recently and I haven't replied please try me again. I'm trying out a MacAfee Spamkiller and I've been a bit trigger happy and permanently deleted some genuine messages before I got the chance to read them.
My apologies and I look forward to hearing from you again!

Richard Bell, richard@willowisland.co.uk