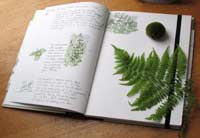 I've just got to the end of my current pocket-sized sketchbook, so when Danny handed me this Nature Journal it struck a chord, especially as Clare Walker Leslie, in her introduction, emphasises how little time it takes to get out to draw, write and, through that, tune into your everyday environment.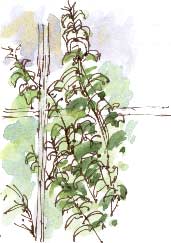 This small nettle, Urtica urens (left), which has roundish leaves with serrated edges, is the one that thrives in the dry soil around the tomato buckets in the greenhouse. Its larger relative, common nettle, Urtica dioica (right), out of control by the compost bin, leans against the glass, 5ft tall.


I've brought this weather station down to the greenhouse with me. It's the first time I've got around to using it out of doors, for the past six months we've been monitoring the weather in the lounge and dining room.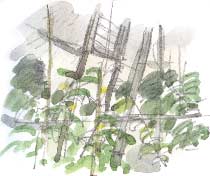 Here in the greenhouse, at 6.52 p.m. continental time (the station is tuned to a European satellite time signal; British Summertime is an hour earlier), it's a comfortable 18°C, 66% humidity, while out on the patio table where I've placed the remote sensor it's 13.9°C, 86% humidity. It would be: it's spotting with rain.
There are yellow flowers on the tomato plants and plenty of green fruits too, including one the size of a golf ball on the Shirley.

| | |
| --- | --- |
| | This fern grows under the staging in the greenhouse. |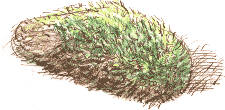 Cushion moss grows as stubby stalactites from the struts of the roof, where water dribbles down. A small mite or spider crawls around its small green world as I draw the clump. Beak-shaped rust-coloured sporangia (right), grow at the tips of golden-green wiry filaments of stems. Leaflets are moss green with golden tips.


Related Link
Clare Walker Leslie, author of Keeping a Nature Journal

Richard Bell, richard@willowisland.co.uk