A wind from the west is bending the top of this fir tree at Pinderfields hospital. While this makes it difficult to sort out the branches, the movement brings the subject to life.

In an attempt to give the large institutional corridors of the hospital a spot of colour prints of paintings by Monet and Van Gogh have been hung on the walls. The fir tree, swaying in the wind, reminds me of Van Gogh's wavy cypresses.

The detail (right) is from Green Wheat Field with Cypress which Van Gogh painted at Saint-Rémy in mid-June, 1889.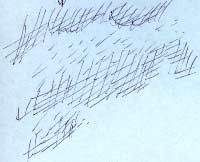 Earlier, while I'm chatting on the phone to my Mum, I doodle the passing grey rain clouds and the foliage of the beech hedge.
I've just finished reading Keeping a Nature Journal by Clare Walker Leslie and Charles Roth. The authors emphasise that it's worth drawing or writing in your nature journal even when you've got only five minutes to spare.
All those five minutes could eventually add up to something.

Richard Bell, richard@willowisland.co.uk