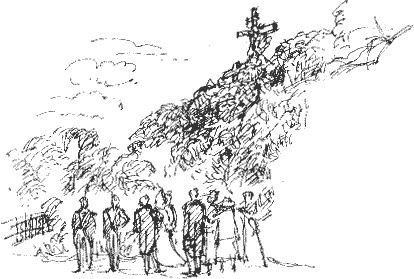 Charles Waterton, the 19th century traveller and naturalist, recorded robin, redstart, blackbird, chaffinch, house sparrows, 24 pairs of starlings, 7 pairs of jackdaws, 4 pairs of wood pigeons and a pair of barn owls nesting on this ruin, the remains of the old Water gate on the island in the lake at Walton Hall, near Wakefield.
Waterton constructed nest holes in the ruins and ruined trees of Walton Park when he set up his nature reserve here in the 1830s.
I'm familiar with old engravings and photographs of the park in its heyday so I get a frisson of slipping into the past when, as I'm standing in the sun drawing the old gateway, a number of top-hatted men in dark tail coats and a beautiful young woman in a long white dress and veil emerge from the ivy-covered arch.
What's going on? It's our neice Emma's wedding and the photographer has just taken the principles down to the water's edge.
For more on Walton Hall take a look at my booklet Waterton's Park, which includes a trail around the surviving features of the nature reserve.

Richard Bell, richard@willowisland.co.uk