This five foot tall hogweed has grown up in the shrub bed and is now spreading its umbels of greenish cream flowers out over a yellow-leaved Spirea. I can see droplets sparkling in the sun on the small individual flowers but if this is nectar it isn't attracting many insects. As I'm drawing I notice only one honey bee visiting the flowers and on a closer inspection I can't see any beetles.
A painted lady visited the herb bed this morning. We'd seen our first of the year yesterday evening, flying in crazy circles over a section of hedgerow in the valley.

As I wrote that one has just flown up the garden, zigging and gliding in short stretches with an air of laid-back celebration, like a could-do-this-in-my-sleep veteran at a street carnival. A been-here-done-that of the bean bed.

While we're having lunch a blackbird is sitting on his gutter corner look-out post on next door's roof, a sparrow perched next to him. He's got a beak-load of two worms, or probably one worm filleted, but this doesn't stop him staking out his territory in the usual way, by singing a few lines of his mellow flutey song. Quite a trick with mouthful of worms.

A Life Drawing

I've just started reading Shirley Hughes A Life Drawing, Recollections of an Illustrator, which, of course, for me is a delight. It's a passage in chapter 8 about her time in Oxford that makes me want to get out and draw the hogweed. She's describing a piece of wasteland near her student lodgings (next door to Professor J R R Tolkien's house), 'overgrown in summer by rosebay willowherb, fool's parsley and straggling lilac, a few collapsing sheds and vegetable allotments with staked-up beans and beyond it, a meandering bit of the River Isis'. She writes with the same gentle precision with which she draws; conjuring up a scene with ease and affection (apparent ease I should say, I'm aware of how much experience it must take to do that). She continues:
When I think of England this kind of modest, haphazardly blooming place readily springs to mind. You see these gardens from the train, just beyond the railway sidings, flashing past like some lost idyll, inviting you to jump off and settle down to a desultory afternoon with a sketchbook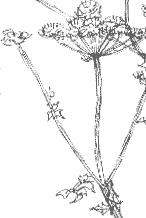 My hogweed sketch (detail, right) doesn't seem that wonderful when I think of her student drawings, let alone her more recent work, but, in mitigation, when I received my art education all the old-fashioned drawing practice that filled her days at the Ruskin School had been thrown out. She comments on this, referring to art school in the 1960s as the 'Babel Tower'. I can't put it better than she does, so here's another quote from her autobiography:
. . . something vital was lost. We are now trying, somewhat painfully and confusedly, to regain it. Drawing means looking more intently and for longer than you do at any other time. The power of concentration and memory follow from this. Students need to be wildly experimental - when else in their lives will they get the chance? But when the in-built skills, preferably acquired when young, which underpin the experiment are removed, they are on dangerous quicksand which can all too easily sink into pompous pretension, a slavish reliance on photographic references, or poor drawing disguised as 'irony'.
A Desultory Afternoon
I've always thought that desultory meant 'half-hearted', perhaps with a sense of being a bit miserable as well, but here's the definition from the Shorter Oxford English Dictionary:
Skipping about or jumping from one thing to another (lit. & fig.); pursuing an irregular or erratic course (lit. & fig.); going constantly from one subject to another; digressive; lacking a fixed plan or purpose, unmethodical; occurring irregularly, intermittent.
So it would be a good description for the flight of that painted lady. It's useful having the Shorter Oxford English Dictionary here on my computer but Shirley Hughes says, of her student days:
Perhaps the arts at Oxford University are so much dominated by the word that despite the visual beauty of the city itself it is a difficult place to become an artist.
Related Links
Shirley Hughes exhibition at the Walker Art Gallery, Liverpool, summer 2003
Children's books by Shirley Hughes at Random House
And there's an appropriate quote from Ruskin if you follow my 'this day last year' link below.
Richard Bell, richard@willowisland.co.uk