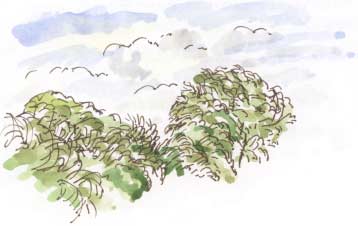 Wind in the willows . . . and in the ashes and oaks of the wood.
Wind in gusts: I draw the beech hedge for several minutes then it's shaken wildly, only to settle again a minute or two later.


Two fishermen are packing up.
'How much is it?'
'Six pounds twelve ounces'
'I told you I'd caught six pound.'
They release the fish, all of them roach, back into the canal.



A young grey heron is standing patiently watching at the foot of the slope at the shallow edge of the canal.
A common tern makes its way up the canal at telegraph pole height. It's bill shows up as bright deep red as sealing wax.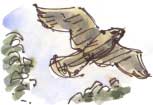 This bird on the low concrete wall by the towpath puzzles us for a moment. It's a young grey wagtail whose tail hasn't grown to full length yet.
No wonder the wagtail's parent is calling it to safety: a brownish sparrowhawk appears by the old railway bridge. Alarm calls, clear and high-pitched, continue for minutes after the danger has passed.



A ground beetle scuttles
across the towpath.
Richard Bell, richard@willowisland.co.uk