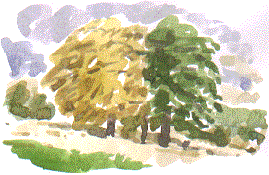 The first tree I've seen flushed with autumn colour is a the horse chestnut at the edge of the park in Wakefield.
On the rugosa rose by the car park in town there are plump hips, shaped like miniature pumpkins. I've previously assumed that this rose was the sweet briar because of its scent but sweet briar, usually spelt brier, is Rosa rubiginosa, a native rose, also known as eglantine.
Rosa rugosa is an introduced species from Japan. Dr D G Hessayon, in The Rose Expert recommends the rugosa rose Roserie de l'Haÿ as a tough variety that will thrive in 'poor soil, salt-laden air and exposed sites'. He describes its prolific blooms as 'large, velvety and sweetly scented'.

But the car park Rugosa seems to be Scabrosa, which Hessayon recommends as a hedge or specimen bush if you don't have room for Roserie de l'Haÿ. Like l'Haÿ it is 'remarkably healthy, hardy and bears large fragant flowers' and, Hessayon adds, Scabrosa 'scores by producing tomato red hips in the autumn'.
Rugosa means 'wrinkled' and this refers to the texture of the leaves. I've noticed that its hips, when they've shrivelled, attract greenfinches which eat the seeds, even here in the centre of town.
Last Rose of Summer
There's a last decadent exhuberance about gardens and countryside. The season is evident even in that most artificial of environments, the Ridings Shopping Centre: children are still much in evidence amongst the shoppers but all the 'back to school' displays hint that they'll soon be back behind their desks.

Related Link
Rosa Rugosa from Dendrology at Virginia Tech
The Garden Expert books by Dr. D.G.Hessayon
Richard Bell, richard@willowisland.co.uk