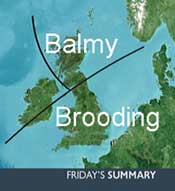 As we come out of the gallery our friend Helen pauses, scans the sky and says;
'It's balmy.'
That doesn't sound right. I correct her:
'Brooding.' Yes, that's it.
'No, it's balmy,' pipes up Helen. She's one those people you can get into an argument with just discussing the weather. There's a tremendous thunderstorm later (there you are, didn't I say it was brooding?!).
The Goathland Diaries

Despite my experience of working on the animated film Watership Down the only cartoon characters who I know in real life are Helen and John (Helen Thomas and John Welding). In fact I met John through the pages of his Goathland diary comics before I met him in real life.



Goathland was the story of John and Helen's daily life in a North Yorks Moors village. My favourite edition is number eight from autumn 1997 which starts with halloween and bonfire night (left) and celebrates some of the seasonal pleasures of rural life, punctuated with deprivations (they lived on Cold Comfort Farm, if you can believe John's story) and tragedy.

I love the inkiness of John's drawings in this issue and the way the feel of the thing comes halfway between comic strip and wood engraving. It seems as much in the bucolic tradition of Thomas Bewick, Samuel Palmer and Paul Nash as it is in the angst-ridden, grungy urban mode of the autobiographical comic strip. But he's good at angst too.

Awakefield

Now that they're living in Wakefield John's started this new journal, available via his web site (I keep trying to persuade him to compile a collected edition of Goathland).

They're now living on the southern edge of Wakefield in a house which reminds me of the settings of Raymond Briggs' comic strip stories. It's a Victorian semi-detached which stands in a coal yard (but with a large garden behind). With an eccentric cat regularly breezing in and out John isn't short of subject matter.
You say balmy, I say brooding
Helen is a painter and, now I think of it, our differing descriptions of the same evening sky sum up our respective approaches to our subject matter. Because of my temperament and my specialisation in natural history/geology I can't draw any subject without brooding on time, loss and the many threats to the places I love.
I'm like Eeyore: I just want to be left alone my 'gloomy place; rather boggy and sad'.
brood: 5. Meditate (on, upon, over, about), esp. moodily or resentfully.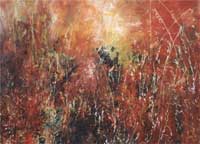 Helen's work is quite different in tone: I find it hard to describe her paintings and drawings without mentioning Monet. Her subjects include sun dappled woodland and meadows shimmering in summer breeze. They're seen close up, filling the frame, and the compositions keep your eye moving around the surface, rather than tempting you into some illusional space. Don't get me wrong, there is space in them but its the kind of space you might try to discover for yourself through meditation; a special place created through feeling, rather than through intellectual analysis.

balmy: 1. Fragrant, aromatic, or soothing like balm.
2 Deliciously soft and soothing; pleasant.
Yes, 'balmy' is a good term for some of Helen's meadows.
Interestingly, bearing in mind that Helen and John lead a double life as cartoon characters, here's another definition from the Oxford English Dictionary:
barmy: 2. fig. Excitedly active; empty-headed, daft, crazy.
Now, that does sound like a cartoon character.


Related Links
If I was a cartoon character, who would I be? . . .
Strindberg and Helium.com: 'Look at this,' Helen says, ' - remind you of anyone?'
Thanks, Helen . . . and, you know, that pesky Helium seems strangely familiar too.
John Welding you'll find a link to a gallery of Helen Thomas's work on the links page.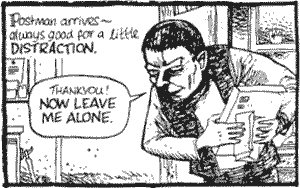 To make sure you've got a little distraction in the post order John's latest title now:
john.welding@ukonline.co.uk
Richard Bell, richard@willowisland.co.uk