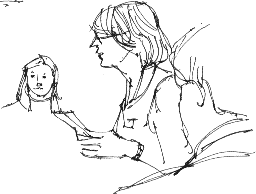 It's not often we find ourselves at a private view, it must be at least a year since we attended one, but we couldn't resist this one: an exhibition of the carunculated oil-on-board cityscapes of Jake Attree along with his animated drawings of figures moving through the spaces of those cities. One of my favourite is a large charcoal drawing looking down on rooftops in Bradford. So animated that it looks as if the city is alive.
This is the first exhibition in a new gallery Art on 3, so called because it's on the third floor of the Redbrick Mill, Batley, but don't worry, there are escalators all the way up.
Can serious art exist in the setting of spacious showrooms devoted to designer sofas? Well, yes, after all, that's where some of these canvases will end up, in city centre mill conversions similar to this.
I sketched Lynne Green (right), the curator, opening the show then, after sampling the cheese board, tried drawing the musicians.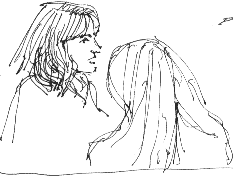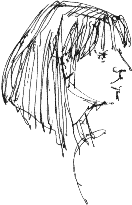 It's always a challenge, to draw a violinist but this one doubled as a vocalist so as soon as I'd got as far as starting to draw the violin she started singing and then, as soon as I'd started a second drawing of her singing, she picked up the violin again.


Related Link

Work by Jake Attree at Hart Gallery, London.
Richard Bell, richard@willowisland.co.uk